Wahab Riaz earns criticism for splashing bikers in Lahore flooded roads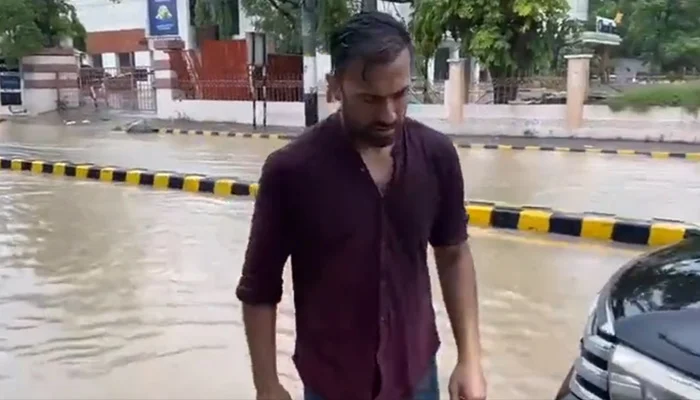 On Wednesday, Punjab interim Chief Minister Wahab Riaz was heavily criticized for splashing bikers and passersby on flooded roads in Lahore.
Punjab's capital city received over 290mm of rain within a span of 10 hours earlier today, breaking a 30-year-old record, resulting in the death of at least seven people.
More than a dozen areas in the metropolis recorded more than 200mm of rain, said Commissioner Lahore Mohammad Ali Randhawa, citing climate change and a strong monsoon.
Today, Punjab Chief Minister Mohsin Naqvi and his cabinet visited different parts of the city to inspect the conditions following the rain.
During a video shared on Twitter, Riaz can be seen driving recklessly on flooded roads and splashing rainwater on passing vehicles and motorcyclists.
In response to Riaz's attitude, journalist and anchor Raza Zaidi tweeted that when a foolish person gets a position, they act foolishly.
The other is known as the "illegal sports minister".
A social media user commented, "He drives so fast and doesn't care about people.".
In a comment on the incident, Rayham Wadud said: "Extremely awful act by Sports Minister Wahab Riaz as he can be seen driving carelessly on Lahore roads flooded with water after heavy rain, splashing water all over passing vehicles and bike riders."
In addition to criticizing the former cricketer, some netizens demanded his resignation.