APC proposed as major political parties stress on need for political harmony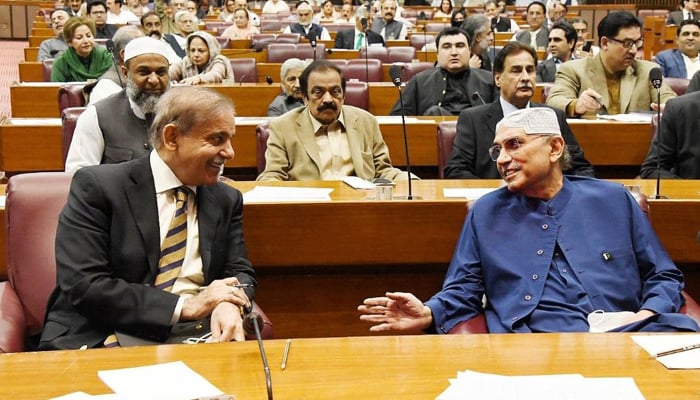 An All Party Conference (APC) has been convened by Pakistan's major political parties to address the growing issue of extremist language that may incite violence and hatred, The News reports. 
This consensus was reached during a dialogue organized by Communications Research Strategies (CRS), a pioneer in strategic communications and research-based interventions.
Seven prominent political parties, including the Pakistan Muslim League-Nawaz (PML-N), the Pakistan People's Party (PPP), the Pakistan Tehreek-e-Insaf (PTI), the Awami National Party (ANP), the National Democratic Movement (NDM) and the Mutahidda Qaumi Movement-Pakistan (MQM-P), emphasized the need for an APC or other mechanism for enabling constructive dialogue between political forces.
Among the representatives of their parties were Adviser to the Prime Minister Qamar Zaman Kaira, Senator Afrasiab Khattak, Senator Pervaiz Rashid, PTI Information Secretary Raoof Hassan, Senator Anwarul Haq Kakar, SAPM Romina Khurshid Alam, MNA Sabir Qaimkhani, member CEC of the PPP Chaudhry Manzoor Ahmad and Information Secretary of the ANP (Punjab).
The dialogue was moderated by Zafarullah Khan, former executive director of the Pakistan Institute of Parliamentary Affairs (PIPA) and an advocate for constitutional literacy.
The CRS CEO, Aniq Zafar, welcomed the participants and pointed out that the political discourse in the country was becoming increasingly harsh, with the potential for violence from non-state actors.
Participants stressed the importance of exploring a common ground through the Charter of Democracy (CoD) to address key structural issues hindering the country's political and economic growth.
The conference's primary objective was to develop a national consensus against extremism and terrorism, leaving no soft spots for existing or new terrorist organizations. 
It was strongly argued that such groups should not be used for political engineering, and society should be immediately de-weaponised in order to curtail the possibility of violence during the upcoming elections.
Furthermore, the seminar discussed the 'economy of terrorism,' which perpetuates the threat of terrorism. 
During the discussion, participants emphasized the importance of investigating and addressing the financial sources that fuel terrorism.
There was an expressed interest in establishing a 'Truth and Reconciliation Commission' to further strengthen the political process. 
A commission of this type could facilitate reconciliation and resolve past conflicts, contributing to political stability and inclusivity.
Ultimately, the representatives decided to send a formal letter to the leadership of all political parties with the seminar's outcomes.
Also, they advocated the convening of an all-party conference (APC) before the next election for a comprehensive debate on the code of conduct for the next elections, ensuring that all voices were heard. 
A concerted effort to promote inclusive dialogue and cooperation among political parties reflects a shared commitment to a free, fair, and peaceful electoral process in Pakistan, ultimately promoting national unity, stability, and progress.