VinFast aims to sell up to 50,000 EVs in 2023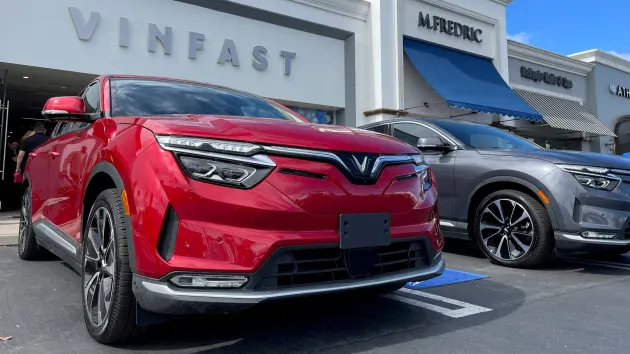 As a result of a weak global economy, VinFast expects to deliver 40,000 to 50,000 vehicles in 2023. The company sold almost seven times as many EVs last year, all in Vietnam.
In the first half of this year, the company delivered only 11,315 vehicles, of which 7,100 were sold to Green and Smart Mobility, a Vietnamese taxi company controlled by parent Vingroup. With VinFast models, Green SM launched a pure EV taxi service in Vietnam in April.
According to Refinitiv data, Vingroup shares closed on Wednesday at 45,200 Vietnamese dong ($1.85), their lowest level since November 2017.
The U.S. volume of VinFast's EVs was less than 200 units during 1H2023. This raises serious concerns about demand for VinFast's EVs," Shifara Samsudeen, equity analyst at LightStream Research, wrote in a SmartKarma report.
In June, only 137 VinFast EVs – all VF8 SUVs – were registered in the U.S., according to automotive data provider S&P Global Mobility. U.S. rival Tesla and China's XPeng delivered 889,015 and 300,145 electric cars, respectively, during the first half of 2015.
"VinFast's ambitious electric vehicle plan seems unrealistic. Despite shares dropping more than 50% compared to IPO, it seems unlikely VinFast will meet its 50,000 EV target for 2023," Samsudeen added.
According to VinFast, it has ramped up production to ensure delivery targets in international markets.
As well, VinFast will soon expand into Southeast Asian and Middle Eastern markets, which will also boost production," the company said.