Ukraine war: Ship leaves Odesa despite Russian Black Sea attack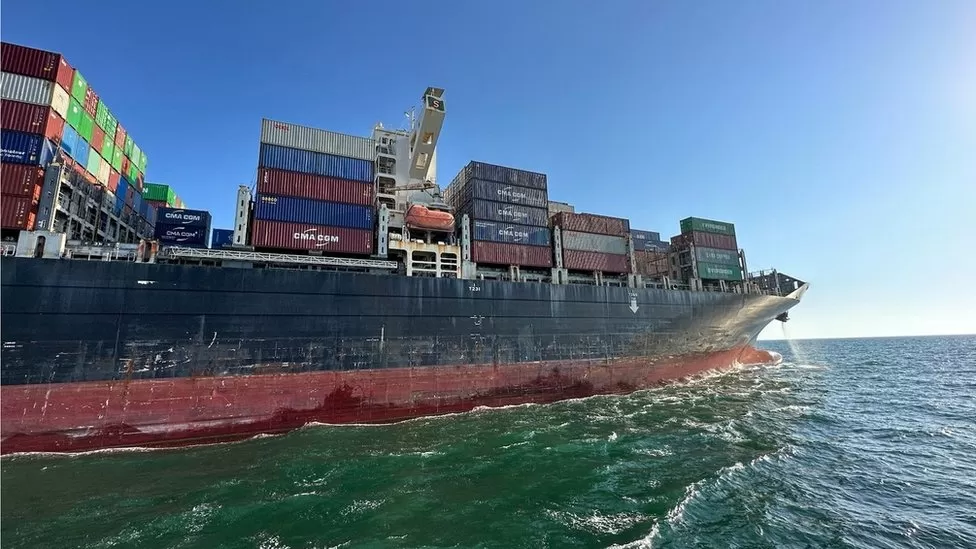 In spite of concerns that vessels in the Black Sea could be targeted by Russia, a merchant ship left the Ukrainian port of Odesa.
Since Russia launched its full-scale invasion of Ukraine in February 2022, the Hong Kong-flagged Joseph Schulte had been trapped in the port.
In response to the collapse of a deal allowing Ukraine to export grain last month, Kiev has announced a "humanitarian corridor" in the Black Sea.
Moscow has not yet indicated whether it will respect the corridor.
As the ship left, Kyiv said Russian air strikes had damaged grain storage facilities in Reni, a river port on the Danube river about 260km (160 miles) south of Odesa.
The photos show crumbling storage facilities and piles of scattered grain and sunflowers in Reni, on the border with Moldova and Romania.
Reuters reported the port was still operating, according to an industry source.
In response to the latest attack, Russia has not commented.
According to Russian officials, any ship heading to Ukrainian ports could be considered a military target after Russia refused to guarantee safe passage for exports across the Black Sea.
It shot warning shots at a Ukrainian ship earlier this week.
The blockade has contributed to higher food prices around the world since Ukraine is a major exporter of grains and oilseeds.
In spite of the threats, Ukraine announced last week a humanitarian corridor in the Black Sea, promising full transparency to demonstrate that the ships were not serving a military purpose.
The first vessel has used the temporary corridor between Great Odesa ports and the ports of Ukraine, Deputy Prime Minister Oleksandr Kubrakov announced on Facebook.
According to Reuters, Bernhard Schulte Shipmanagement, which owns the Joseph Schulte jointly with a Chinese bank, confirmed the ship would travel to Istanbul, Turkey.
Mr Kubrakov said the corridor carried more than 30,000 tonnes of cargo, including food, in 2,114 containers, adding that the corridor would primarily be used to evacuate ships trapped in Black Sea ports during Russia's full-scale invasion.
In the meantime, Ukrainian officials announced the capture of Urozhaine, a small hamlet in the eastern Donetsk region, from Russian forces.
On Telegram, Deputy Defence Minister Hanna Maliar announced that Urozhaine had been liberated and that our defenders were entrenched at the outskirts.
During recent months, Ukrainian forces have launched a massive counteroffensive, primarily in the east and south east, in an attempt to retake territory from the Russian occupiers.
The Ukrainian military announced earlier this week that it had retaken three square kilometers (1.2 square miles) of territory around the war-ravaged town of Bakhmut, also in Donetsk region, despite "powerful resistance" in the south.
Thousands of residents have been evacuated due to intense fighting in the country's east.
A 53-year-old grandmother, Vira Vunesku, said the time had come to evacuate her grandson from the frontline town of Kupiansk in the Kharkiv Region.
My condition is serious – I had been in a hospital in Kharkiv, returned home for a bit, and now I have to leave again," she said.