Ukraine and Kenya plan 'grain hub' for East Africa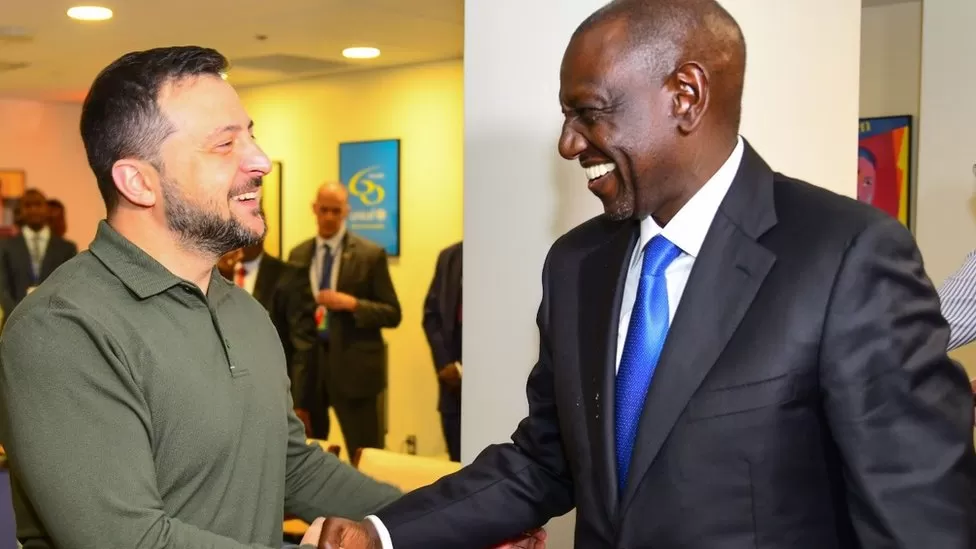 As part of its effort to tackle food insecurity, Ukraine plans to set up "grain hubs" in Kenya and other African countries.
Volodymyr Zelensky's office announced the plan, without providing many details, after he met with Kenyan and South African counterparts.
The Ukraine supplies grain to Africa in large quantities.
A withdrawal by Russia from a scheme that allowed the export of food from Ukraine raised concerns about food shortages on the continent in July.
As a result of Russia's invasion of Ukraine in February last year, global grain prices have risen.
According to President Zelensky, Russia weaponized everything from food to energy during his speech at the UN General Assembly on Tuesday.
In New York, he met Kenyan President William Ruto and South African President Cyril Ramaphosa.
To help address East Africa's food shortages, Mr Ruto said the Ukrainian president had committed to establishing a "grain hub" in Kenya's coastal city of Mombasa.
He did not elaborate further on what this would entail or how it would be accomplished.
Following Russia's invasion, Kenya has been one of Africa's most prominent supporters of Ukraine.
In contrast, South Africa has maintained a neutral stance. Both Ukrainians and Russians were involved in a peace mission led by President Ramaphosa in June.
According to Mr Ramaphosa, he and the Ukrainian president discussed "the way forward on the peace initiative". Additionally, they discussed the revival of the grain deal, which had allowed Ukrainian food to be exported through the Black Sea.
Despite the difficult situation, several ships carrying grain have already passed through these routes, Mr Zelensky said.