Trump not entitled to immunity in Carroll defamation lawsuit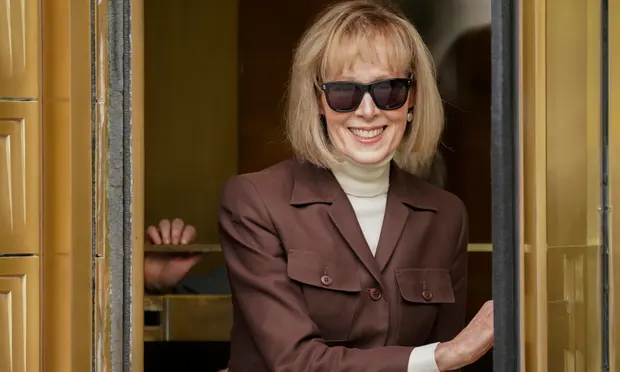 The justice department has reversed its position on defending Donald Trump in a lawsuit brought by the writer E Jean Carroll, paving the way for a possible trial in January.
The department said in a court filing on Tuesday that it could no longer conclude Trump was acting in his capacity as president when he made allegedly defamatory statements about Carroll in 2019.
The former Elle magazine columnist alleges that she was sexually assaulted by Trump in a New York department store in 1996, a claim that he dismissed as "a complete con job".
Carroll, 79, has already won a second case against Trump over comments he made after he left the White House. In May, a New York jury found that Trump was liable for sexual abuse and defamation, and ordered him to pay her $5m in damages. Trump has sought to delay the first defamation lawsuit by claiming that he should be granted immunity because he made the comments while speaking to the media as president.
At first, the justice department – under Trump and Joe Biden – agreed with that view. But in the filing on Tuesday, US lawyers cited the jury's verdict, Trump's October deposition and new claims Carroll has since made that Trump defamed her again with comments he made during a CNN town hall a day after the verdict.
They said the new evidence suggested "that Mr Trump was motivated by a 'personal grievance' stemming from events that occurred many years prior to Mr. Trump's presidency", the New York Times reported.
Tuesday's reversal leaves Trump, 77, legally exposed to further damages and forced to rely on his own legal team rather than one from the government.
Roberta Kaplan, a lawyer for Carroll, welcomed the decision. "We are grateful that the Department of Justice has reconsidered its position," she said in a statement.
"We have always believed that Donald Trump made his defamatory statements about our client in June 2019 out of personal animus, ill will and spite, and not as president of the United States. Now that one of the last obstacles has been removed, we look forward to trial in E Jean Carroll's original case in January 2024."
Steven Cheung, a spokesperson for Trump, said the step showed that the justice department under Joe Biden was "politically weaponizing the justice system" against Trump. He dismissed the department's move as "a partisan sham".
Carroll is seeking $10m in damages in the first suit. A 15 January 2024 trial is scheduled before the US district judge Lewis Kaplan, who handled the earlier trial. He is not related to Roberta Kaplan. Earlier on Tuesday, Carroll asked a judge in Manhattan to dismiss a countersuit by Trump that asserts she defamed him by repeating her claim that he raped her.
Carroll's lawyers described Trump's countersuit as his latest effort to "spin" his trial loss by claiming she caused him "significant" harm by implying in a post-trial interview that the assault was also a rape.
Lawyers for Carroll also accused Trump of springing his counterclaim too late, to "hold up yet again this otherwise trial-ready, much-delayed case".
Trump is again seeking the White House and is the clear frontrunner in the Republican primary field.