Cross-border aid to Syria blocked in by Russia at UN vote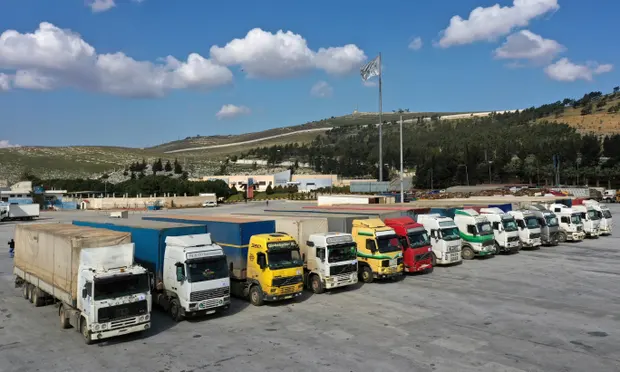 By using its veto at the UN security council, Russia blocked a renewal of cross-border aid designed to help 4 million people living in rebel-held north-west Syria for nine months.
It represents another blow to a population still reeling from the devastating February earthquake that struck the region, and threatens the continued existence of the key aid route into Syria from Turkey.
Under UN authorization, the aid operation has been delivering food, medicine and shelter since 2014, and the permit for the border crossing at Bab al-Hawa expired on Monday.
As a result, the UN secretary general, António Guterres, requested a 12-month renewal, while Russia said it would only accept a six-month renewal. If the UN does not support Russia's request for an extension of six months, "we can simply close the cross-border mechanism," said Vassily Nebenzia.
A compromise between Russia and the UN secretary general was intended as a compromise between the UK and 12 other members of the council, but Russia vetoed it. Only Russia and China supported Russia's six-month extension proposal. Russia's proposal was rejected by the US, Britain, and France with ten security council members abstaining.
For a resolution to be adopted, it must receive nine votes and no vetoes from the five permanent members.
Aid routes are considered a violation of Syria's sovereignty by Russia, which previously cut cross-border aid crossings.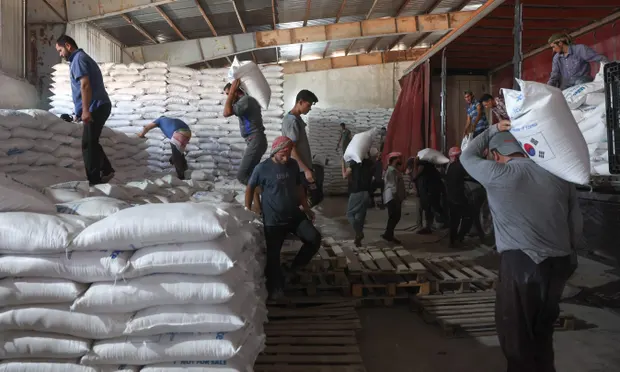 The US ambassador to the UN, Linda Thomas-Greenfield, told the council after Russia's veto, "It's a sad moment for the Syrian people." According to Thomas-Greenfield, Russia behaved like a bully in the playground by telling the UN no deal would be possible if Russia's six-month offer was rejected. "We must keep at this – the Syrian people are counting on us – and we must all encourage Russia to return to the table."
As a result of the 7.8-intensity earthquake in February, cross-border aid deliveries were temporarily permitted at the Bab al-Salam and al-Ra'ee crossings. However, the permits for these crossings expire on 13 August, meaning aid cannot enter Syria by land if nothing changes.
The UN said in a statement that it would "continue to advocate for extending humanitarian assistance to millions of people in need in north-west Syria." The renewal of the authorization is crucial, because Bab al-Hawa remains the center of gravity for the UN's cross-border response, including being close to Idlib, where most of the needy in north-west Syria live." According to Care International's secretary general, Russia's veto was "one of the lowest points in the council's humanitarian record since the conflict started."
Rather than addressing Syrian humanitarian needs, the council today has allowed politics to drive its decisions.
"The UN security council's decision will have catastrophic consequences for the region's 4.1 million inhabitants whose survival depends on UN assistance. There will be a shortage of essential goods and services within weeks.
IRC chief David Miliband said the security council's decision to restrict aid access to vulnerable Syrians defied reason and principle.
There is still a sense of abandonment in northern Syria after the earthquake, according to aid workers. Approximately 103,000 Syrians were made homeless instantly, and 4,500 were killed.