North Korea fires ballistic missile towards Japan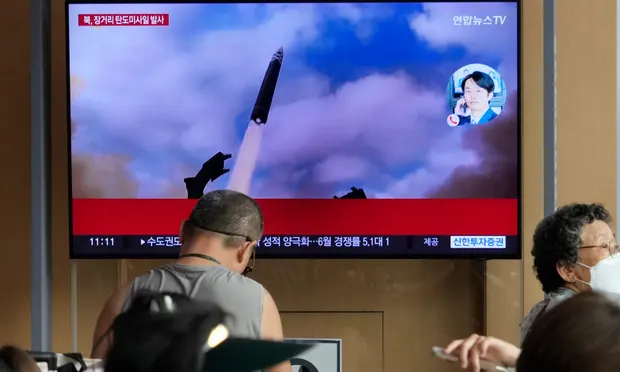 Following threats of retaliation for alleged US spy plane flights, North Korea fired a ballistic missile off its east coast toward Japan on Wednesday, according to South Korea's joint chiefs of staff.
According to South Korea's military, the missile flew about 1,000km (621 miles) before crashing into the water. In Japan's northernmost Hokkaido prefecture, the missile came down about 250km west of Okushiri island after a 74-minute flight reaching an altitude of more than 6,000km.
In Hawaii, the top US general met with his South Korean and Japanese counterparts for a rare trilateral meeting. According to Colonel Dave Butler, a spokesman for Gen Mark Milley, the North Korean launch occurred at the conclusion of the long-planned meeting.
The United States has been pressing its uneasy neighbors to work closer together to counter China's and North Korea's growing threats. Relations between Seoul and Tokyo have been strained since Japan occupied Korea from 1910 to 1945.
There is speculation that North Korea may have tested its road-mobile Hwasong-18 ICBM, a solid-fuel weapon harder to detect and intercept than its liquid-fuel counterparts. It was previously referred to as North Korea's most powerful nuclear weapon by its ruler, Kim Jong-un.
In an apparent attempt to avoid neighbouring countries, the missile was launched on a high angle, according to South Korean and Japanese assessments.
North Korea has launched 12 rockets this year. The regime test-fired its first solid-fuel intercontinental ballistic missile in April, and at the end of May, it attempted to launch its first spy satellite using a new launch vehicle. The South Korean government said last week that the wreckage of the satellite had no military utility as a reconnaissance satellite.
The latest launch comes after North Korea made heated complaints in recent days over US military activities, accusing American spy planes of violating airspace in its economic zones and condemning the recent visit by a nuclear submarine with nuclear power to South Korea.
Kim Yo-jong, Kim Jong-un's influential sister, threatened the US on Monday with "shocking" consequences.
Eight times a day, the US spy plane flew over the North's eastern exclusive economic zone, and the North scrambled warplanes to chase it away.
In response to the North's accusations, the US and South Korea urged it to refrain from acts and rhetoric that could escalate tensions.
Despite North Korea's barrage of missile tests this year, its latest statements came amid heightened animosity over alleged US reconnaissance activities.
UN security council resolutions prohibit North Korea from using ballistic missile technology, including for satellite launches. Several countries have sanctioned North Korea for its missile and nuclear weapons programs, including the security council.
Commercial satellite imagery indicates North Korea will stage military displays, including a large parade, on 27 July to commemorate its victory over the US, South Korea and their allies in the 1950-53 Korean War.