Trump faces 4 March 2024 trial just a day before Super Tuesday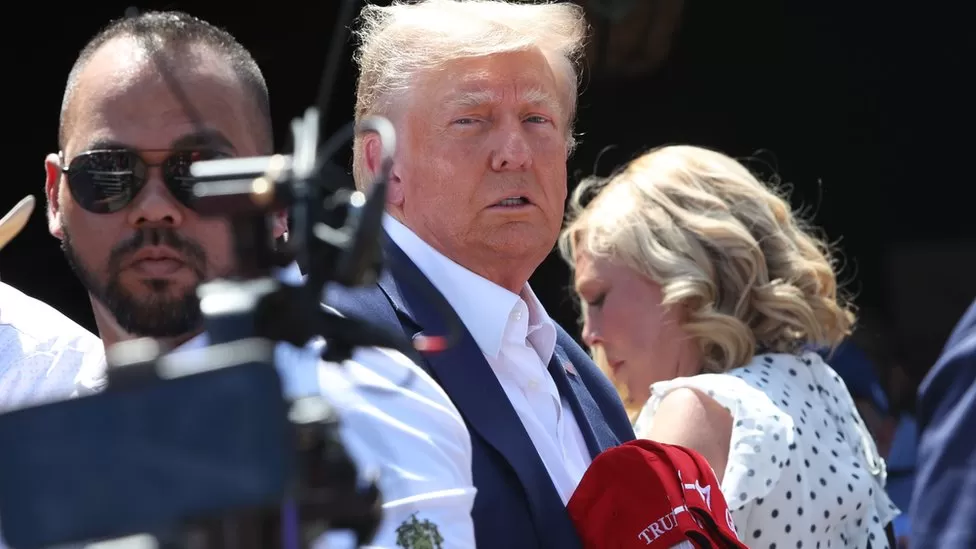 The trial for his alleged attempt to overturn the 2020 election has been scheduled for 4 March, the day before Super Tuesday, the biggest Republican vote day.
In Washington DC, that trial would pull Mr Trump off the campaign trail for a crucial stretch of his campaign, when he could be cementing his position as the Republican standard-bearer or engaging in an extended battle with one or more opponents.
His lawyers have already vigorously protested proposed trial schedules that conflict with the presidential campaign, which he and his supporters have deemed "election interference".
The trial date ruling has been appealed by Mr Trump. On his social media site, he derided the judge as biased and Trump-hating, saying the timing was "just what our corrupt government wanted".
Initially, Mr Trump's legal team proposed an April 2026 trial date, which the judge rejected. Although the first presidential nomination contest in Iowa isn't until January, the Republican presidential campaign has already begun. Monthly debates have been held for qualifying candidates by the party. Trump avoided the first debate in Wisconsin in August, stating that he didn't need to appear because he was leading in the polls.
His schedule, however, gave an early indication of his legal concerns' impact on his political calculations. After the debate, the former president appeared in an Atlanta jail on charges of interfering with the Georgia 2020 election.
Despite the fact that much of Mr Trump's legal drama will take place in 2024, one trial is already scheduled for later this year. A civil fraud lawsuit filed by New York state against Mr Trump and his business empire is set for trial on 2 October. Even though Mr Trump is not required to appear in court, it could still be a distraction just five days after the second Republican primary debate.
As the calendar flips to 2024, things really start heating up. Defamation proceedings against Mr Trump will begin on the same day as the Iowa caucuses, the first Republican presidential selection contest. The writer has already won a $5m (£3.9m) judgment from the former president after a jury found he sexually assaulted and defamed her. Trump's New York hush-money case will go to trial in late March, a few weeks after the federal trial in Washington, DC, which is set to begin on 6 January. May is the date set for the federal case involving mishandling classified documents. After many of the key Republican primaries have been held. The preparation for those cases, including pre-trial hearings and depositions, will begin months in advance.
A Georgia indictment has yet to be scheduled.
In her racketeering case against Trump and 18 co-defendants, Georgia District Attorney Fani Willis wants the case to be tried within six months, but that timeline is also ambitious, since one defendant wants the case moved to federal court and another wants it tried earlier.
All judges presiding over these cases will consider Mr Trump's legal concerns, as well as the campaign timeline, and work out a schedule that accommodates all competing interests. There will be a Republican national convention in mid-July, as well as a traditional series of presidential debates in early autumn in 2024. Eventually, the possibility of a trial in the shadow of November's presidential election – or even afterward – becomes real.
The trials – as well as any pre-trial hearings, depositions, and other legal proceedings – will take weeks, if not months, of Mr Trump's time. It will be necessary for him to schedule his campaigning, including his beloved public rallies, around them. Judges could impose a limit on what he can publicly say – and sanction him if he does not comply.
In addition, supporting multiple teams of lawyers to contest the criminal charges against Mr Trump and his associates represents a huge financial drain. With the first criminal trial still months away, a Trump-affiliated political committee has already spent more than $40 million on legal fees.
There is no guarantee that those numbers will go down – and they will continue to limit how much money the former president can invest in grass-roots organizing, television and online advertisements, and staffing.
It is a daunting burden for any candidate, even someone like Mr. Trump who has shown remarkable political endurance.