Jacksonville shooting Mourners honour victims of racist attack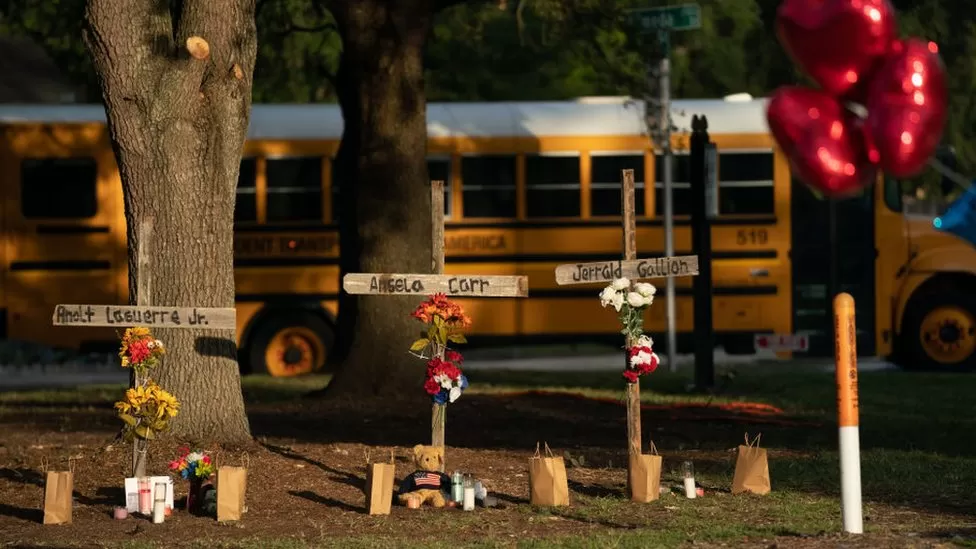 Jerrald De'Shaun Gallion, 29, Angela Michelle Carr, 52, and Anolt Joseph "AJ" Laguerre Jr, 19, have been identified as the victims.
Despite his violent actions, the white gunman clearly "hated black people", police said.
A federal hate crime investigation is underway in Jacksonville.
Tracie Davis, a Democratic state lawmaker, said the following day, "We have three people dead because they are black."
Mayor Donna Deegan told mourners, "The division, the hate, and the rhetoric must stop." "We are all flesh, blood, and bones."
A suspect armed with a Glock pistol and an AR-15 type rifle shot at shoppers and employees at a Dollar General store in Jacksonville, the state's most populous city. She had just dropped off a friend at the shop, her son said.
Chayvaughn Payne, 30, told the New York Times, "She would give her shirt off her back for people." It's hard to cope with losing a mother.
According to Mr Payne, his mother liked to host cookouts and other family gatherings.
Over the weekend, another son, Vaughn Blanco, shared the news of his loss on Facebook.
A letter he wrote read, "My momma gone, she was robbed of her life." "My momma gone, she was robbed of her life," he wrote.
I know we are going through things with our parents, but make sure they are doing well," read another. As he and his girlfriend walked through the store's front door, Mr Gallion was shot and killed.
A young father and his four-year-old daughter were planning to spend the weekend together.
It melted my heart to see my grand-daughter," said Sabrina Rozier, his mother-in-law. "She was his world and he was hers."
"Now we're trying to figure out how to tell her, because we haven't told her yet," she said. Currently, we don't know.
Latiffany Gallion, Mr Gallion's sister, recalled his sense of humour and work ethic. "My brother shouldn't have died," she said. "A simple trip to the store, and he's gone." The restaurant manager attended the local St Paul Missionary Baptist church, according to its senior pastor.
On Sunday, Bishop John Guns said, "I have to preach a funeral for a man who should still be alive."
"He wasn't a gangster, he wasn't a thug – he was a father who gave his life to Jesus and was trying to get things together. I wept in church today because my heart is tired. We are tired."
Gun Violence Archive, a non-profit organization, reports that more than 28,000 Americans have died from gun violence this year.
This attack coincided with the 60th anniversary of the March on Washington, a pivotal demonstration in the black civil rights movement.