SCO Summit: 'Use of terrorism for diplomatic point scoring must be avoided,' Pakistan tells India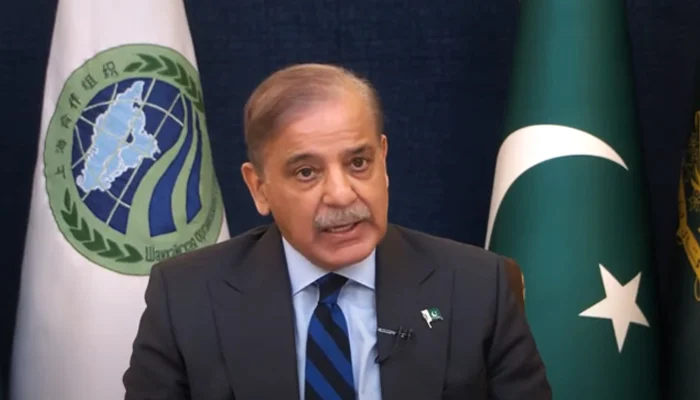 Shehbaz Sharif advised India Tuesday to avoid using terrorism to score diplomatic points, saying terror activities are a major obstacle to regional peace.
As he spoke at the 23rd meeting of the SCO Council of Heads of State (CHS), under the leadership of Prime Minister Narendra Modi, the prime minister made this statement.
In his address, the premier noted that SCO members share the same interest in ensuring peace and stability in the region.
"Whether committed by individuals, societies, or states, terrorism and extremism must be combated with conviction and vigor," the premier stated.
We must avoid any temptation to use [terrorism] as a diplomatic tool. We must condemn terrorism in all its forms and manifestations, including state terrorism.
Regardless of the cause or pretext, killing innocent people cannot be justified, according to Shehbaz. 
In the same way, he warned against demonizing religious minorities for political reasons.
Despite Pakistan's numerous sacrifices to combat terrorism, PM Shehbaz noted that the threat of militancy continues to plague the region.
According to the prime minister, SCO countries must take immediate and concerted action against terrorism, extremism, and separatism.
'CPEC game changer for region'
The premier began by thanking India for stewarding the regional body this year.
Shehbaz said Pakistan is unique geographically in central Asia. 
In a speech highlighting the importance of the multi-billion dollar China-Pakistan Economic Corridor (CPEC), the prime minister said the partnership could change the entire region.
A special economic zone is being developed in Pakistan under the CPEC, he said. 
Terrorism and Afghanistan
He also addressed the lingering issue of Afghanistan in his speech.
According to the PM, the international community is at a standstill regarding Afghanistan, urging the stakeholders to continue supporting the war-torn country to avoid a humanitarian crisis.
According to him, Afghanistan had been deprived of "critical support" and the matter needed to be reviewed.
Also, he called on the Afghan interim government led by the Taliban to take concrete steps to prevent "militant activity" on its soil.
SCO should join hands to fight terrorism: Modi 
Indian Prime Minister Modi said in his address earlier that the SCO should work together to combat terrorism and not hesitate to condemn countries that support terror.
Moreover, Modi urged leaders of the Eurasian political and security grouping to provide humanitarian aid to Kabul.
The SCO leaders should not be allowed to use Afghan soil for destabilizing neighboring countries, Modi said.
Pakistan, Russia, and China are also attending.