Rising inflows of dollars, the rupee continued its downward slide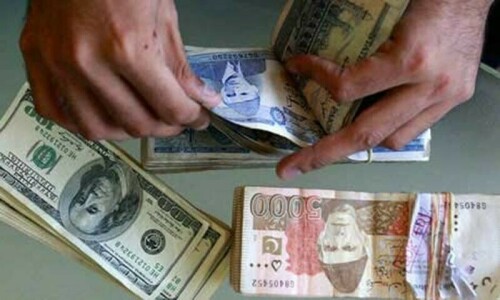 Despite rising dollar inflows, the rupee continued its downward slide on Monday, losing Rs1.67 against the greenback to close at Rs279.26.
According to the State Bank of Pakistan, the rupee declined by Rs1.67 against the dollar on Friday, closing the week at Rs277.60.
As a result of the pressure on the local currency, the dollar has appreciated by Rs2.81 in the last two sessions.
Saudi Arabia, the United Arab Emirates, and the International Monetary Fund (IMF) contributed $4.2 billion to the rupee's appreciation against the US dollar on Thursday. In spite of this, the dollar regained strength on Monday and suppressed the PKR, contrary to market expectations.
With the latest inflows in the last week, the SBP's foreign exchange reserves almost doubled to $8.7bn, but greenback prices remained high.
Despite rising foreign exchange reserves, importers are still unable to open letters of credit (LCs). Banks have been asked by the SBP to open LCs only if they possess sufficient dollars. Practically no imports were allowed. In the past, importers were allowed to arrange their own dollars.
According to a currency expert, importers have not been restricted from settling their import payments through deferred payments. There is a deferred payment contract between the importer and exporter, and the payment can be settled outside the country. The deferred payment could be made through Hundi or Hawala.
The dollar price surged to Rs300 in the grey market amid high demand, pushing the open market rate up by Rs4 in a single session.
In the open market, the dollar gained Rs3 to Rs4. According to Zafar Paracha, General Secretary of the Exchange Companies Association of Pakistan, there was a shortage of dollars on Monday, which led to higher dollar prices.
According to him, the high prices on the grey market have also affected the local exchange market, which lost most of its business as a result.