The rupee remained under pressure against the dollar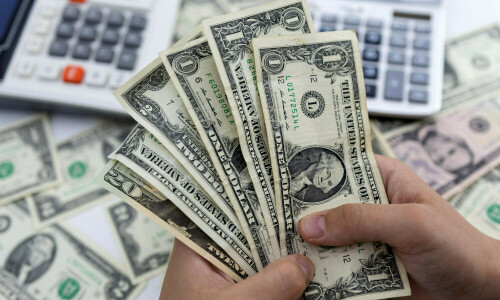 On Thursday, the rupee remained under pressure against the dollar as strong import demand pushed the greenback up Rs1.35.
Banking dealers said the dollar has transitioned from a managed system to a free zone, which may lead to further rate increases.
Dollars closed at Rs285.15, up from Rs283.80 a day earlier.
The dollar has appreciated by Rs9.70 against the local currency since its lowest price of Rs275.45 on July 4. Inflows from the International Monetary Fund (IMF) and other sources temporarily stabilized the dollar.
In the banking market, Atif Ahmed, a currency expert and dealer, said "the pressure is mounting due to free imports. There is a rush for the dollar."
Importers have been given a free hand thanks to the $3 billion Stand-By Arrangement with the IMF. At the same time, the IMF asked Pakistan not to influence the exchange rate.
In the past, the State Bank managed the exchange rate to some extent. As importers have more freedom, dollar demand is rising, resulting in a higher price for dollars, according to some bankers.
Zafar Paracha, Secretary General of the Exchange Companies Association of Pakistan, believes that imports will slow after a month, and that the exchange rate will stabilize.
Bankers, however, maintained that higher imports require higher foreign exchange reserves, but inflows are not sufficient to meet demand. As a result of this shortage of dollars, the dollar will appreciate against the rupee.
For the current financial year, FY24, analysts find it difficult to accept even 2.5 percent economic growth. In FY23, growth was just 0.29 percent, and some economists even argue that it was negative.
The open market reported dollars trading at Rs293, but Mr Paracha said the closing price was Rs289.50. The IMF requires the dollar price difference to be within 1.25 percent. Grey market dollar prices, however, were around Rs305.
An increase in SBP reserves
During the week ended July 14, the SBP reported an increase in foreign exchange reserves of $4.2bn to $8.727bn.
According to the central bank, it received $2 billion from Saudi Arabia, $1 billion from the United Arab Emirates, and $1.2 billion from the International Monetary Fund.
The country's total foreign exchange reserves have reached $14.065 billion due to current inflows. Commercial banks held net assets of $5.338 billion.
In addition to boosting SBP reserves, the inflows also helped Pakistan avoid sovereign default. From over $17 billion in FY22 to $2.5 billion in FY23, the current account deficit has been narrowed.
In the outgoing fiscal year, the country suffered a significant decline in remittances and exports, resulting in a loss of over $8bn.