Rishi Sunak delays petrol car ban in major shift on green policies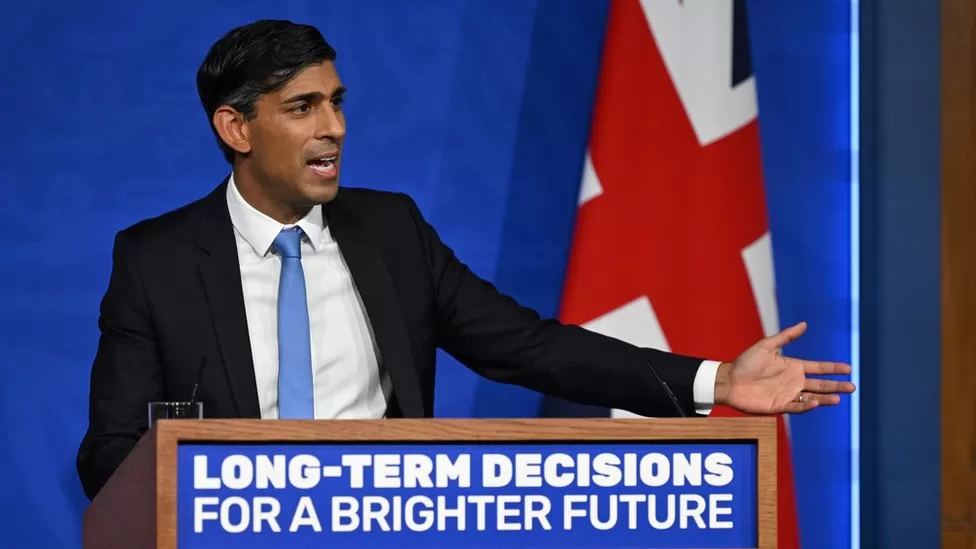 With a major change to the government's approach to achieving net zero by 2050, Rishi Sunak has delayed a ban on new petrol and diesel cars.
Along with a 50% increase in cash incentives for gas boiler replacements, the prime minister announced exemptions and delays to several key green policies.
In order to reduce emissions, the government cannot impose "unacceptable costs" on British families, he said.
Several industry bosses and the opposition have criticized it harshly.
Despite attacks from his own party, many Conservative MPs and industry leaders supported Sunak's new direction.
A general election is expected next year, and Mr Sunak wants to establish dividing lines with opposition parties.
A number of Boris Johnson's key policies that were introduced when Mr Sunak served as chancellor have been unpicked by the prime minister as "pragmatic and proportionate".
Following the unveiling of proposals on Wednesday morning, Sunak ran the changes past a hastily arranged cabinet meeting.
Labour unreservedly committed to keeping the 2030 ban on the sale of new petrol and diesel cars in response to the statement.
Steve Reed, shadow environment secretary, said that the UK was not on track to hit net zero, which is when a country stops adding to the overall amount of greenhouse gases.
In Reed's view, the prime minister "sold out the biggest economic opportunity of the 21st century" for Britain "to lead the world in transition to well-paid, secure, new jobs in the green economy".
Despite Sunak's proposals dividing his party, Parliament, and many in the country, the PM will conclude he has no choice but to gamble in light of Labour's lead in the opinion polls.
As Mr Sunak promised to lay out "a series of long-term decisions" later this fall, the political choices outlined in his speech preview more announcements.