Pakistan-US relations back to normal now: PM Shehbaz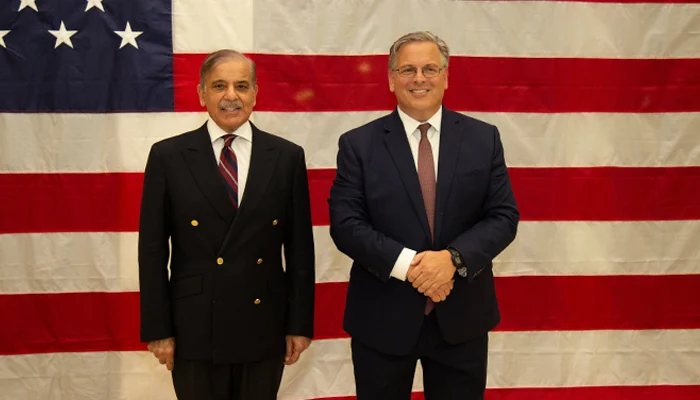 SLAMABAD: Pakistani Prime Minister Shehbaz Sharif said Thursday that the bilateral relations between the countries have returned to normal, noting that the ties between them had improved.
During a ceremony celebrating the 247th Independence Day of the US, he said Pakistan and the US were making serious efforts to mend ties, putting aside any misgivings and misunderstandings.
In his capacity as head of state and as a Pakistani, he pledged to cultivate stronger and more trusting relations with the US.
We have had our ups and downs over the last 75 years, but on the whole we have been very good friends," he said.
As Pakistan's largest trading partner and steadfast ally in the war against terrorism, the US is an important partner for the country.
According to PM Shehbaz, Pakistan lost 80,000 people from all walks of life in the fight against terrorism. In this fight, the US has been a great partner and supporter, he noted, and that this sacrifice explains Pakistan's commitment.
Five years ago, when Pakistan faced serious power outages, the government established 5,000 megawatts of LNG-based power plants and imported the entire equipment from the US.
Agriculture and information technology are two fields in which both countries have a lot to cover and expand their ties.
Despite Pakistan's large talent pool and youth bulge, he said it could be turned into an opportunity with the United States' support and cooperation.
During the devastating floods of last year, the prime minister thanked the United States for its support.
"We value the support our country has provided to millions of flood-affected people," he said.
In honor of the 247th Independence Day of the United States, Prime Minister Shehbaz congratulated President Joe Biden and the American people.
According to him, high-powered delegations from the US would enhance cooperation further through their visits.
Donald Blome, US ambassador to Pakistan, said the economic partnership between the two countries was growing.
According to him, the US has been Pakistan's largest export market and a major investor, adding that both countries have expanded market access.