Justice Musarrat Hilali takes oath as second woman SC judge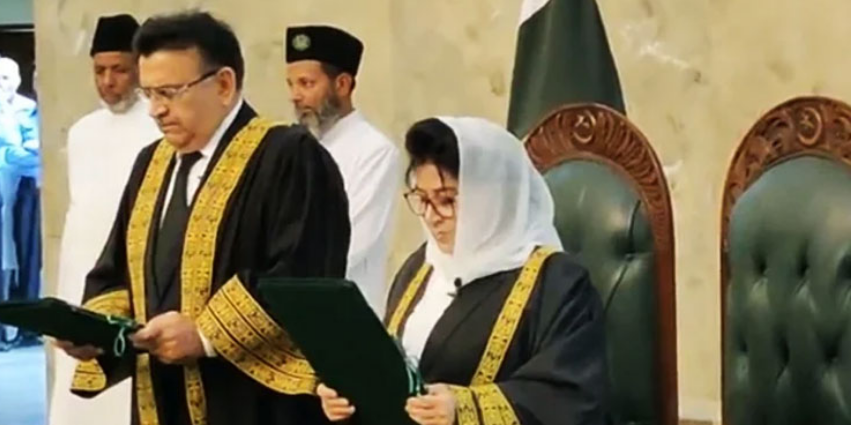 Justice Musarrat Hilali became the second woman to serve on Pakistan's apex court on Friday, ARY News reported.
At a ceremony attended by other judges, lawyers, and officials, Chief Justice Umar Ata Bandial administered the oath to Justice Hilali.
Peshawar High Court (PHC) Chief Justice (CJ) Justice Musarrat Hilali was elevated to the Supreme Court last month by the Judicial Commission of Pakistan (JCP).
Qazi Faez Isa, the senior puisne judge of the Supreme Court, had requested an immediate meeting of the JCP and suggested the names of the chief justices of Sindh and Peshawar high courts to fill the vacancies.
As part of a letter sent to all commission members, Justice Isa suggested that the vacancies be filled as soon as possible, and names of judges should be recommended before time while taking seniority into account.
In what capacity does Justice Hilali serve?
On August 08, 1961, Justice Hilali graduated from Khyber Law College, Peshawar University and enrolled as an Advocate of District Courts in 1983, as an Advocate of High Court in 1988, and as an Advocate of the Supreme Court of Pakistan in 2006.
Additionally, she was the first woman appointed Chairperson of the Khyber Pakhtunkhwa Environment Protection Tribunal from November 2001 to March 2004.
In addition, she served as the first woman Ombudsman for the Protection against Harassment of Women at Workplace. The Peshawar High Court confirmed her as a permanent judge on March 13, 2014, after she was appointed as an additional judge on March 26, 2013.
In April 2023, she took oath as acting Chief Justice of the PHC.