Nvidia's quarterly sales double on the back of AI boom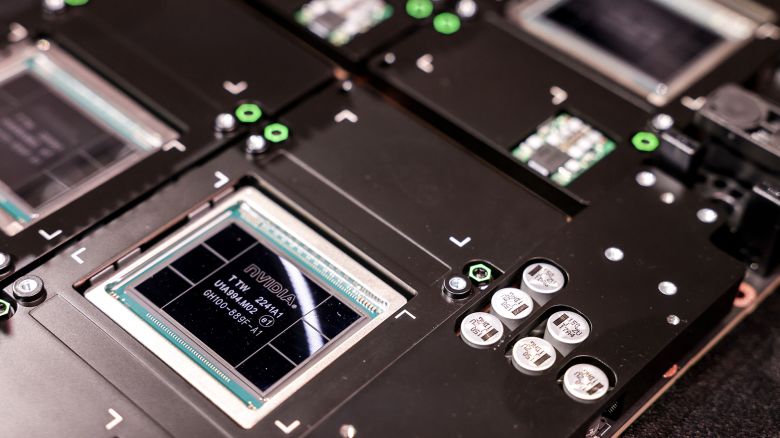 Nvidia continues to have a blockbuster year thanks to the artificial intelligence boom.
In after-hours trading Wednesday, Nvidia's stock went up 9% after the Santa Clara, California-based company posted year-over-year sales growth of 101%, to $13.5 billion for the three months ended in July.
Wall Street analysts expected $11.2 billion in revenue, but the results were even better. Non-GAAP adjusted profits grew 429% from the same period in the prior year to $2.70 per share, also beating analysts' expectations. Generally accepted accounting principles are known as GAAP.
In its fiscal third quarter, Nvidia is forecasting revenue of $16 billion.
Nvidia's chief financial officer Colette Kress said on the company's earnings conference call, "Demand for our AI data center platform is enormous and broad-based across industries and customers.".
Over the past year, Nvidia's stock price has risen by just over 220% as artificial intelligence technology has become more popular and sought after. Chipmaker Xilinx produces processors that power generative AI, a technique that can generate text, images, and other media – and which is the basis for buzzy new services like ChatGPT.
A $25 billion share buyback program was also authorized by Nvidia's board of directors. Stock buyback programs may indicate that a company's management believes its stock is undervalued.
"We have entered a new era of computing. NVIDIA CEO Jensen Huang said in a statement that companies worldwide are transitioning from general-purpose computing to accelerated computing and generative AI, and that the company is partnering with "Leading enterprise IT system and software providers…" to make NVIDIA AI available to all industries.
The race to adopt generative AI is on, he said.
Following the company's earnings report in May, Huang said the firm was ramping up its supply to meet "surging demand."
During the quarter, the chipmaker's gaming division grew 11% from the previous quarter and 22% year-over-year to $2.5 billion.
Despite last year's slowdown, Nvidia's gaming unit has recovered in recent months, Kress said.