Owner of Pakistan cable car arrested by police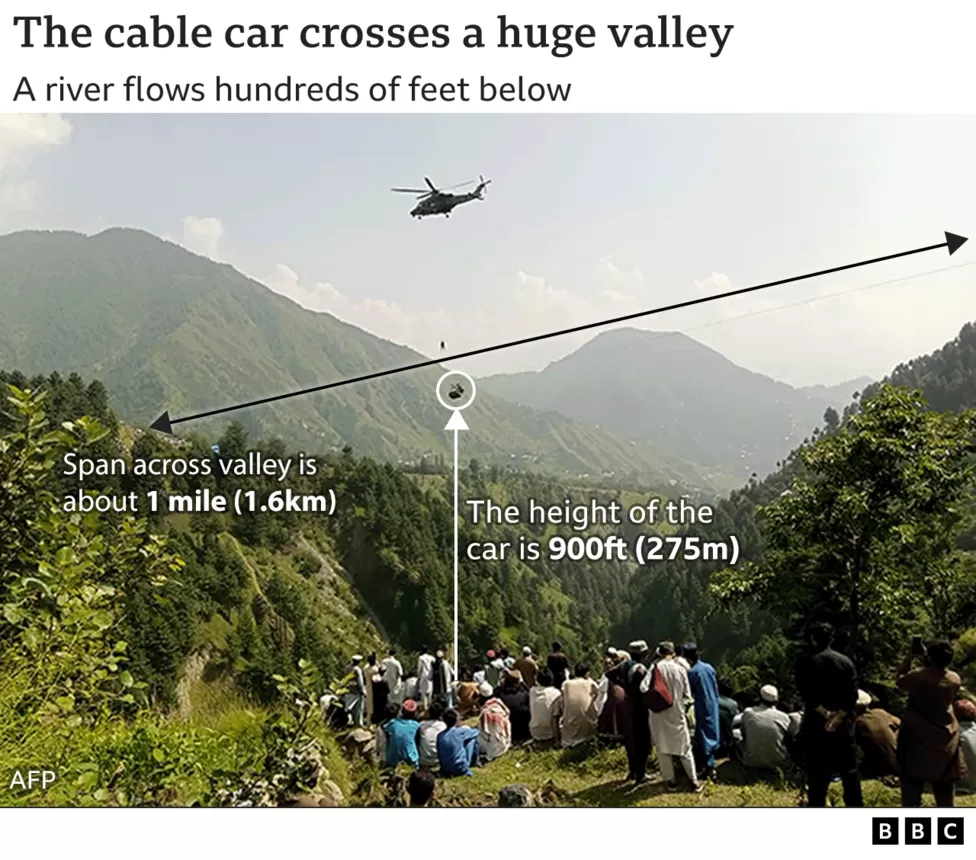 Eight people were left stranded when a cable car malfunctioned in Pakistan, leaving them dangling over a ravine.
In Khyber Pakhtunkhwa, a massive rescue operation lasted more than 12 hours.
Gul Zareen was arrested on multiple charges, including endangering lives and negligence.
During the ordeal, a trapped child said he feared "it was over".
During the ride, the chairlift's rope broke halfway. It was dangling, and I was terrified," Attaullah Shah said.
The first trapped child was rescued by a military helicopter, while the rest of the group was rescued by zip line experts after dark.
Two of the car's cables snapped as the group was driving to school.
With high winds, it was left hanging precariously 274m (900ft) above the ground.
"It was like doomsday for the area," said Fahim Udin Shah, the uncle of a rescued child.
"Everyone rushed out of their homes [to view the operation]. A kid from almost every household was here," he said.
The Pakistani army described the rescue mission as "extremely dangerous and difficult".
On Tuesday, near the city of Battagram in Khyber Pakhtunkhwa, an incident occurred at around 7:00 local time (02:00 GMT).
Two adults and six children between the ages of 10 and 16 were trapped.
An adult on board named Gulfaraz told local media that one of the children, a teenage boy, suffered from a heart condition and was unconscious for several hours.
The same child fainted due to "heat and fear", a rescue worker told Reuters.
Cable cars connect the village of Jangri with Batangi, where the school is located.
In the Allai valley, a cable car cuts a two-hour road journey through mountainous terrain to four minutes.
It was the fifth trip of the day when the cable snapped.
Local media outlet Dawn reported that residents used loudspeakers to alert officials to the crisis, but the first rescue helicopter took at least four hours to arrive.
Military helicopters battled against strong winds to lower commandos to the stranded car as anxious crowds gathered along the ravine.
Early attempts to reach them failed, but some food and water were delivered. Besides gusty winds, the helicopter's rotor blades could further destabilize the cable car, so the operation was suspended as night fell.
With the help of zip line experts and locals, rescuers continued their efforts.
A mountainous area with a sparse population and limited infrastructure, Allai is 2000m above sea level.
As a means of transportation between mountains, makeshift chairlifts and cable cars are frequently used.
According to local media, the one involved in this incident is privately owned and operated. The cause of the cable break on the stranded car is unknown.
Anwaar ul Haq Kakar, Pakistan's acting prime minister, has ordered all privately operated chair lifts to be inspected.