Niger coup: Why some people want Russia in and France out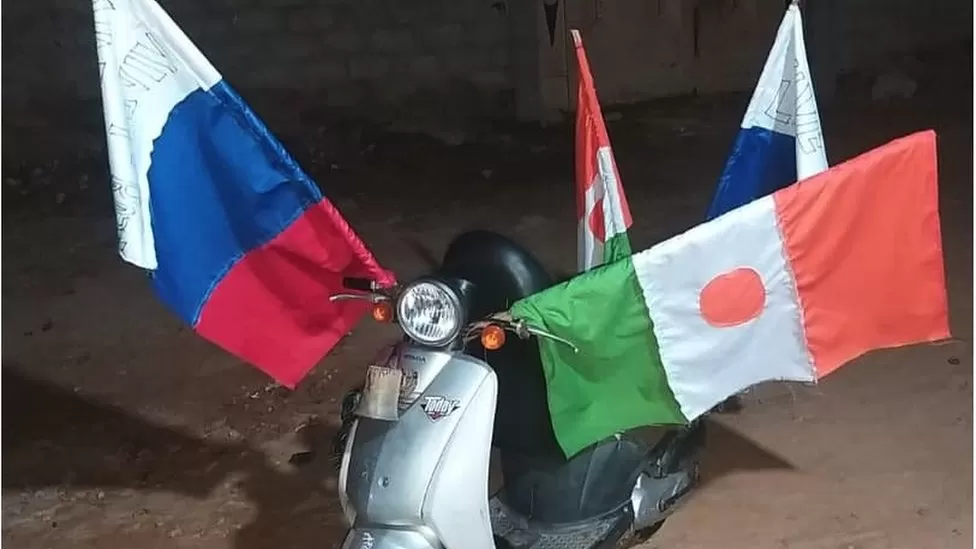 During the coup in Niger, a businessman proudly shows off his outfit in the colors of the Russian flag in the traditional heartland of deposed President Mohamed Bazoum.
As a result of the coup, the military and the West have been exchanging words.
Bazoum was a staunch ally of the West in the fight against militant Islamists, as well as a strong economic partner.
In addition to hosting a French military base, Niger is the seventh biggest producer of uranium in the world. About a quarter of the fuel goes to Europe, particularly the former colonial power France.
Russian colours have suddenly appeared on the streets after General Abdourahamane Tchiani overthrew the president.
On Sunday, thousands of people protested in the capital Niamey, waving Russian flags and attacking the French embassy.
Apparently, this "movement" is spreading across the country.
A businessman in Zinder, 800km (500 miles) away, requested that his face be blurred for safety reasons.
He said, "I'm pro-Russian and I don't like France." The French have always been a problem in my life since I was a child.
They have exploited all the resources in my country, including uranium, petrol, and gold. The poorest Nigeriens cannot eat three times a day because of France."
In support of the military takeover, thousands of people protested in Zinder on Monday.
According to him, a local tailor had made him an outfit with white, blue, and red material, denying that it had been paid for by pro-Russian groups.
Twenty-four million people live in extreme poverty in Niger, where two in five live on less than $2.15 a day.
As Niger's first democratic and peaceful transition of power since independence in 1960, President Bazoum assumed office in 2021.
The government of his country, however, became a target for Islamist militants linked to the Islamic State group and al-Qaeda, who roam across parts of the Sahara Desert and the semi-arid Sahel region.
Both Mali and Burkina Faso, both former French colonies with considerable French interests, have seized power in recent years under pressure from Islamists.
Both of these countries previously had significant numbers of French troops helping them, but as the Islamist attacks continued, anti-French sentiment grew across the region, with people in all three countries accusing the French of failing to do enough to stop them.
Upon taking power, the Mali junta welcomed Russia's mercenary Wagner Group as it drove French troops out of the country and removed thousands of UN peacekeepers.
Despite Islamist attacks in Mali, Burkina Faso's junta has grown close to Russia and expelled hundreds of French troops.
Mr Bazoum's administration frequently banned anti-French protests in Niger.
In mid-2022, several civil society groups escalated anti-French protests after Mr Bazoum's administration approved the redeployment of France's Barkhane forces from Mali to Niger.
This includes the M62 movement, which was formed by activists, civil society movements, and trade unions in August 2022. In addition to the rising cost of living, poor governance and the presence of French forces, they led calls for protests.