Cerberus heatwave: Hot weather sweeps across Europe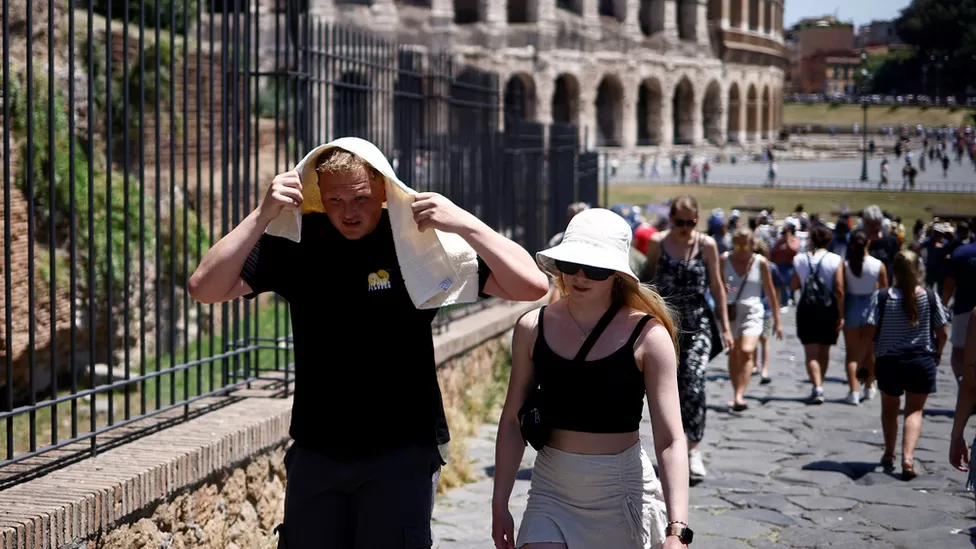 It is predicted that southern Europe will experience record-breaking temperatures in the next few days because of a heatwave that is sweeping across the region.
Throughout Spain, France, Greece, Croatia, and Turkey, temperatures will exceed 40 degrees Celsius (104 degrees Fahrenheit).
Italy could experience temperatures as high as 48.8C (119.8F). In 10 cities, including Rome, Bologna, and Florence, a red alert warning has been issued.
A man in his forties died after collapsing in northern Italy on Tuesday.
The 44-year-old worker collapsed from heat exhaustion while painting zebra crossing lines near Milan, according to Italian media. The man was taken to a hospital, where he later passed away.
There have been several heatstroke deaths in the country, including a British man outside the Colosseum.
Water consumption should be at least two liters a day and coffee and alcohol should be avoided as they dehydrate the body.
In Rome, two Australian tourists reported being "really surprised" by the heat.
Our plans as tourists have been spoiled a bit," said Melbourne friends Maria and Gloria. The plan is to avoid going out during the daytime."
In the next few days, the Cerberus heatwave – named after the three-headed monster in Dante's Inferno – will bring more extreme weather conditions.
Overnight temperatures in much of the country did not fall below 25C (77F), as Spain has been sweltering in temperatures as high as 45C (113F).
Since opening in early June, the Andalusian regional government has received 54,000 calls from people affected by the heat.
In the Extremadura region, the land surface temperature reached 60C (140F) on Tuesday, according to a satellite image taken by the EU's Copernicus Sentinel mission.
Temperatures are expected to peak on Friday, according to the UK's national weather service, the Met Office.
Weather forecasters suggest temperatures could be as high as 50 degrees for large swathes of southern Europe.
When Cerberus dies out, Italian weather forecasters warn that the next heatwave – named Charon after the ferryman who delivered souls to the underworld in Greek mythology – will drive temperatures up to 43C (109F) in Rome and as high as 47C (116F) on Sardinia.