Megan Rapinoe criticises Spanish football federation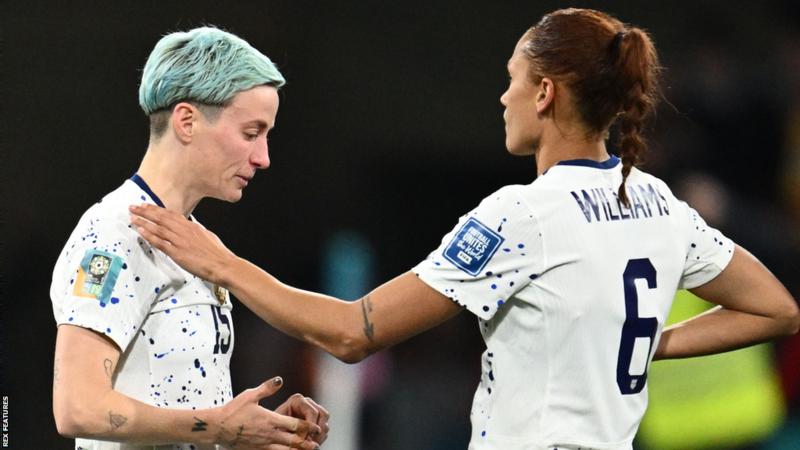 Megan Rapinoe says female footballers campaigning for equality play two games at once.
She says some had been "waiting for this stumble" before she was eliminated from the Women's World Cup in the last-16.
She also criticized the RFEF president Luis Rubiales for displaying "misogyny and sexism" during their win.
"It made me contemplate how much we must endure," Rapinoe said.
Rubiales kissed forward Jenni Hermoso on the lips during the presentation ceremony, overshadowing Spain's 1-0 victory over England.
As Rubiales celebrated victory at the final whistle at Stadium Australia, near Queen Letizia of Spain and her 16-year-old daughter, he grabbed his crotch.
After 15 players submitted identical e-mails last September, demanding that their "emotional state" and "health" be addressed, Spain coach Jorge Vilda survived a player revolt.
The RFEF, however, continued to support Vilda after Spain's World Cup victory by posting 'VILDA IN'.
Two-time Women's World Cup winner Rapinoe told the American magazine the Atlantic: "Think about what the Spanish team had to deal with: some of the players who stood up last year aren't on it." They may have been galvanized by that, but that shouldn't be your problem.
The other picture shows so much sexism and misogyny in that federation and in that man (Rubiales) at the final whistle, just grasping his crotch.
Jenni has to be physically assaulted by this guy on the biggest stage of all, where she should be celebrating."
On Monday, Rubiales apologized for kissing Hermoso, but Pedro Sanchez, Spain's prime minister, said the apology was "not enough", and Yolanda Diaz urged him to step down.