Foreign financing soars by 27 times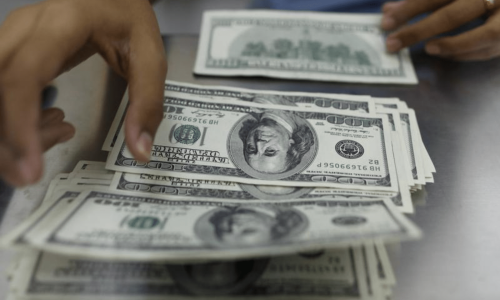 Foreign economic assistance reached $2.89 billion in July, up 1,454 percent from $185.6 million in July last year, according to the Finance Ministry's Economic Affairs Division.
As part of the $3bn Standby Arrangement (SBA), the International Monetary Fund released $1.2bn on July 13 and the United Arab Emirates released $1bn, which are separately accounted for by the State Bank of Pakistan.
Most foreign loans reported by the Economic Affairs Division came from Saudi Arabia's time deposit, followed by a $508m guaranteed loan to Pakistan Air Force from China National Aero-Technology Import and Export Corporation. Other inflows in July included $194m from multilateral agencies and $114m from bilateral lenders. Naya Pakistan Certificates brought in another $75 million from overseas Pakistanis.
In the budget for the current fiscal year, the government estimates about $17.62bn in foreign assistance, including $17.39bn in loans and $235m in grants. A total of $2.88 billion was disbursed in loans and $14.4 million was disbursed in grants in July.
The $2.89bn inflows included $2.08bn in budgetary support and $640m in project aid.
Due to the suspension of the IMF programme, the government budgeted $22.8bn in foreign assistance for the previous fiscal year (2022-23), but only managed to materialize $10.8bn of it throughout the year – 46 percent of the target. Foreign exchange reserves were depleted as a result of this slippage of $11.8bn.
Due to this, the country's total external public debt decreased slightly to $85.2bn by the end of March this year from $86.56bn by the end of 2022, the Economic Affairs Division reported in its January-March quarterly report.
A total of $85.18bn of the government's external debt is owed to multilateral and bilateral development partners, including the IMF, which means more than three-quarters of the debt is on concessional terms.
Moreover, 16 percent (or $13.5 billion) of the total external public debt came from international capital markets and foreign commercial banks, and 7 percent ($7 billion) came from friendly countries.
During July-March, net transfers to the government were negative by $3.349 billion, meaning the government had to pay more than it acquired.
In particular, the government acquired $900m in loans from foreign commercial banks during July-March and repaid $4.542bn. Despite the decline in net transfers from multilateral development partners, net transfers from multilateral development partners grew by $1.468bn, reflecting an improvement in the composition of external public debt since multilateral development partner funds are concessional and have a longer maturity.
During July-March, the government paid $12.92bn for debt servicing on external public loans. There was a principal repayment of $10.84 billion and an interest repayment of $2.09 billion.
Last year, the government paid $9.44bn, including $8.14bn in principal repayments and $1.3bn in interest payments.
.