Kylian Mbappe: Will PSG striker move to Saudi Arabia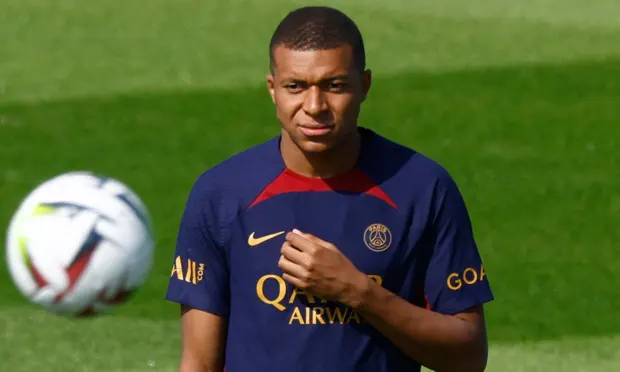 This summer's headline transfer saga has been the future of Kylian Mbappe.
To avoid losing their record goalscorer for nothing next summer, Paris St-Germain are attempting to cash in on the France captain, who refused a contract extension.
The Saudi Arabian side Al-Hilal shocked the footballing world on Monday by making an eye-watering world record bid of £259m for the World Cup winner.
What happens next? Would he be able to swap the Champions League for the Saudi Pro League? What is the likely destination of the striker?
In 260 games played, Mbappe has scored 212 goals, initially on loan from Monaco before joining PSG for 180 million euros (£166 million).
It is disappointing that the Qatari-owned club has failed to achieve the ultimate goal of winning the Champions League despite achieving plenty of domestic success and creating a strike force featuring three of the world's most famous players, Mbappe, Neymar and Lionel Messi.
The deal Mbappe has with the club expires in June 2024, but last month it was revealed he had informed the club he would not be extending it.
PSG left him out of their pre-season tour of Japan and South Korea due to the fallout.
PSG drew 0-0 against another Saudi team, Al-Nassr, in Osaka, Japan, in their first match of the trip.
After the match, PSG defender Danilo Pereira said: "Kylian Mbappe is a great player and he's not here.".
The decision is up to the club, so I cannot comment on it."
It has been suggested Mbappe will not be selected for an entire year if he refuses to break the current deadlock if Nasser Al-Khelaifi takes a tough stance.
Al-Hilal, one of four clubs owned by Saudi Arabia's Public Investment Fund, has been granted permission to speak with Mbappe by the French club.
European clubs are also expected to make rival bids for PSG.
Lisa Leroux, a French football journalist, believes Mbappe is a "once in a generation" player, but that "he won't go, for him, it's more than money".
Upon moving to Saudi Arabia, Mbappe would likely become the highest-paid player in football, exceeding Cristiano Ronaldo's reported £177m-a-year salary at Al Nassr following his December move from Manchester United.
On top of his salary, Mbappe could earn as much as 700 million euros (£602 million) a year from commercial arrangements and image rights.
Leroux said no player has ever been offered this salary in football, or even in sporting history for one year. It would just be historic and out of this world for him to receive such a salary.
The amount would be about 59 million euros a month, or almost 2 million euros a day.
According to Julien Laurens, Mbappe will not go to Saudi Arabia.
Laurens told BBC Radio 5 Live that he doesn't want to go there. "When PSG says they have permission to speak to Mbappe, he won't speak to them, Al-Hilal knows that. It's not about money for him.
As a 24-year-old, he wants to win every trophy possible, including the Saudi League.
Real Madrid have long been admirers of the player, and he was close to moving to Spain before signing with PSG. According to him, reports that he wants to join Real this summer are "lies."
There have also been expressions of interest from Chelsea, Manchester United, Tottenham, Inter Milan, and Barcelona.
It is possible for Mbappe to leave PSG on loan this summer to complete the final year of his contract somewhere else.
He could join Real for nothing in 12 months, play this season, and generate a loan fee for PSG.
"For example, Barcelona called PSG yesterday and said, 'we can't afford any transfer fee, we can't even afford his wages,'" said Laurens.
Despite earning 72 million euros gross a year, Mbappe has to take a pay cut, and he is aware of it, but Barcelona asked, "How about we swap players for Mbappe? "
Every big club in Europe will try to put something together to perhaps, firstly, convince PSG to sell to them, and then to convince Mbappe to join them.
Real Madrid are the favourites because they have the money, because he wants to go there, and they want him. That could be United, Liverpool, and all the English clubs. He might even go to Italy as well.
"They've been chasing him since he was 11 years old. Real are the big favourites, but would they be willing to pay the 150 million euros that PSG would demand, instead of waiting and getting nothing in 12 months?"
In Laurens' opinion, Real should sign Mbappe this summer rather than wait until he is a free agent, when they will "get into a bidding war, in terms of signing fees and wages".
"If they sign him now, their team gets much better already. Why wait if they have the money?" he asked.
For Real to sign him, they have to pay a big signing on fee. It's just a matter of when the negotiations begin between the two clubs, they are huge favourites to land him.
When he decided to stay in Paris for longer and not go to Real on a free transfer a year ago, they had the money for him.
"Even after spending 103 million euros on [England midfielder] Jude Bellingham, there is space in the wage bill and money available for a transfer fee. If they pay £150m, it will be spread over the entire contract."