Brook believes winning at the Oval would be 'moral victory'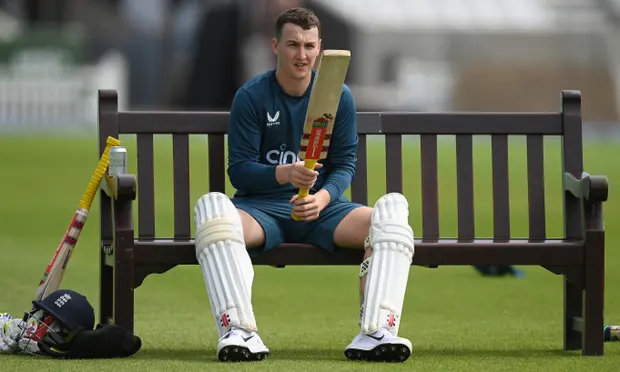 Although the Manchester weather ended England's chances of winning the Ashes series, they go into the final match seeking the next best thing: moral victory. While they are 2-1 down, the players have not forgotten their commanding position at Old Trafford despite the subsequent rain.
We were dominating the game and I believe we would have won if it had played out," Harry Brook said. "So if we win this week, it would almost be a moral victory."
The team has been trained to always see the upside, and those skills could be tested as much at the Oval as their cricketing ones. Even if the series ends with England on the wrong end of a 3-1 scoreline after three intense, dramatic and closely contested Tests, there may be one to be found.
"Our entire mantra is to excite people, have fun, and bring new crowds to the game," Brook said. "I think we've already accomplished that this series. Regardless of the result this week, I think we've had a good series."
There were patches of the Old Trafford outfield on Sunday where England could have given it a go, brimming with confidence and powered by pure sporting momentum. Even among the players, it appears that two days of rain washed all of that away.
The weather ruined it for us because we would have been very confident going into this game if it had been 2-2 – and they could have been a little different." Brook said.
In his two most recent innings, 75 at Headingley and 61 at Old Trafford, Brook has also scored a half-century in each of the past three Tests.
Every day I learn something new. This series has taught me so many things," the 24-year-old said.
"I feel like I've been a little bit reckless in this series, especially in the first innings at Lord's. Sometimes I have been a little tentative and not looked to score.
"It's about getting that measure right most innings.". Aggression and recklessness are two different things. My preference would probably be to be reckless, rather than cautious – always looking to score, not just to survive."
When watching the rain pour down in the Old Trafford dressing room, England's players admitted they felt they deserve more from the series than they will receive: "We were thinking that."
Meanwhile, Jimmy Anderson has insisted that he does not have any thoughts of retiring from Test cricket. As England's record wicket-taker, now 40, struggles in this Ashes series, speculation has mounted that the Oval match may be his last.
As he wrote in the Telegraph on Tuesday: "It is the Oval, the end of a series, and a time for speculation." The coach and captain keep asking me questions. I will continue to do my best for the team as long as I am still hungry and willing to put in the work.