King Charles France visit mixes celebrity and pageantry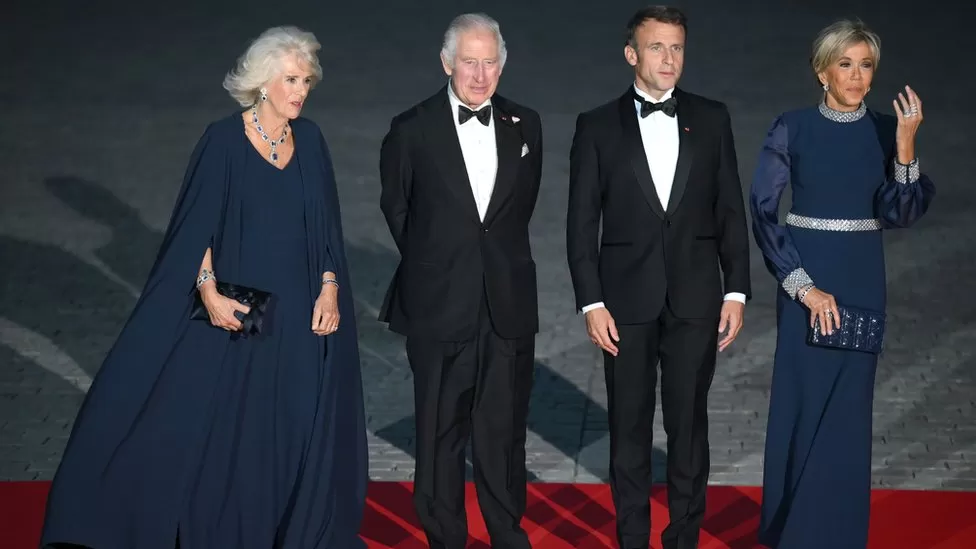 As the King and Queen's state visit to France got underway in Paris on Wednesday, there was much ceremony and security.
This diplomatic theatre began with the Arc de Triomphe, where President Emmanuel Macron pulled out all the stops for his royal visitors with a flypast trailing the French flag's colors.
As Mick Jagger rolled into the Palace of Versailles for a state banquet, rock royalty yelled "bon soir.".
On the red carpet at Versailles, Queen Camilla wore a blue Dior cape, while the King and President Macron pretended to converse while they lined up for pictures.
Rather like a goalkeeper stuck in the wrong penalty area, former Arsenal manager Arsene Wenger seemed surprised to be one of the final guests.
Despite the minutely choreographed pageantry and celebrity, there is a serious purpose. There is a strange mix of PR and politics involved in a state visit.
In the coming days, there will be a checklist of areas of common interest between Britain and France, such as trade, environment, culture, and defense.
Even the cheeses had to be balanced with one British cheese, Stilchelton, and one French cheese, Comte, at a banquet – blue lobster as a start.
Speaking in both French and English for the banquet toast is always a diplomatic crowd pleaser. His mother had danced in Paris as a young newlywed in her twenties in 1948, and he remembered how she had done so.
There had been a serenade performed by Edith Piaf for Princess Elizabeth. As she was pregnant by then, Charles said: "I suspect it may have left an indelible impression on me, even six months before I was born. La Vie en Rose is one of my favorite songs."