Justin Trudeau repeats allegation against India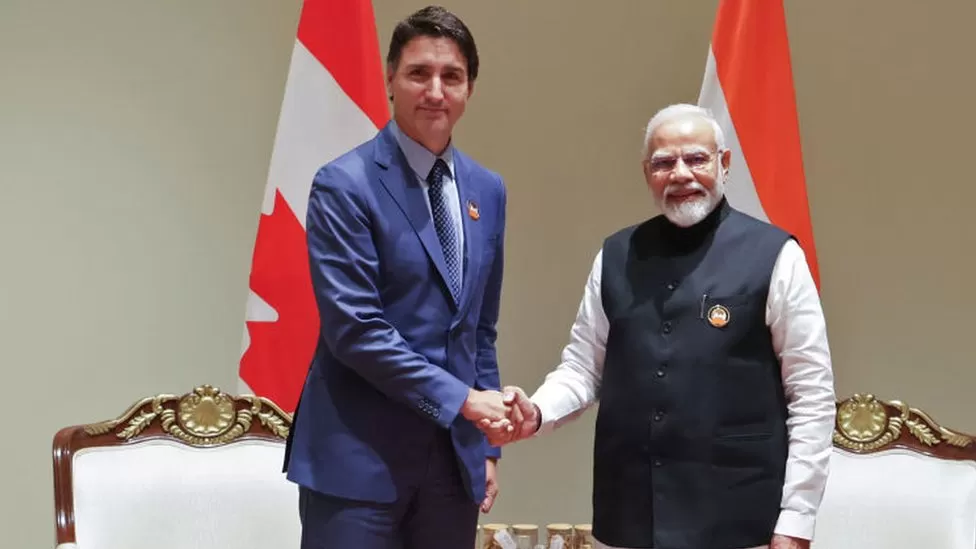 Canadian PM Justin Trudeau has reiterated that there are "credible reasons" to believe that Indian agents may have been behind the murder of a Sikh separatist on Canadian soil.
According to India, the allegations were made on Monday and have been strongly rejected as "absurd".
It was in June that Hardeep Singh Nijjar, who India designated a terrorist in 2020, was gunned down outside a temple.
As a result of the allegation, tensions between the two countries have flared.
Sikh separatists in Western countries have often demanded Khalistan, or a separate homeland for Sikhs, from the Indian government.
Nijjar's supporters claim he was a peaceful activist who supported the demand for a separate homeland for Sikhs, despite India's designation as a terrorist.
As a result of Mr Trudeau's accusation, India and Canada have entered into an ugly diplomatic row, despite historical close ties and good trade relations between the two nations.
On Thursday, India suspended visa services for Canadians after both countries expelled a diplomat each.
According to Canadian diplomats, some of their social media posts threatening them have led to them reducing their staff in India.
As he spoke to reporters on the sidelines of the UN General Assembly on Thursday, Trudeau repeated some of his earlier remarks.
As I said on Monday, there are credible reasons to believe that agents of the Indian government were involved in the killing of a Canadian on Canadian soil," he said, adding that this will help the country defend the "rules-based international order we believe in".
It was a tense meeting between Trudeau and Modi during his recent visit to India for the G20 summit.
In a sharp statement, India expressed concerns about the anti-India activities of extremist elements in Canada, which it accused of "promoting secessionism and inciting violence against Indian diplomats".
As part of Canada's commitment to "freedom of expression," Mr. Trudeau said the country would always combat hatred.