Jimmy Buffett Margaritaville singer dies aged 76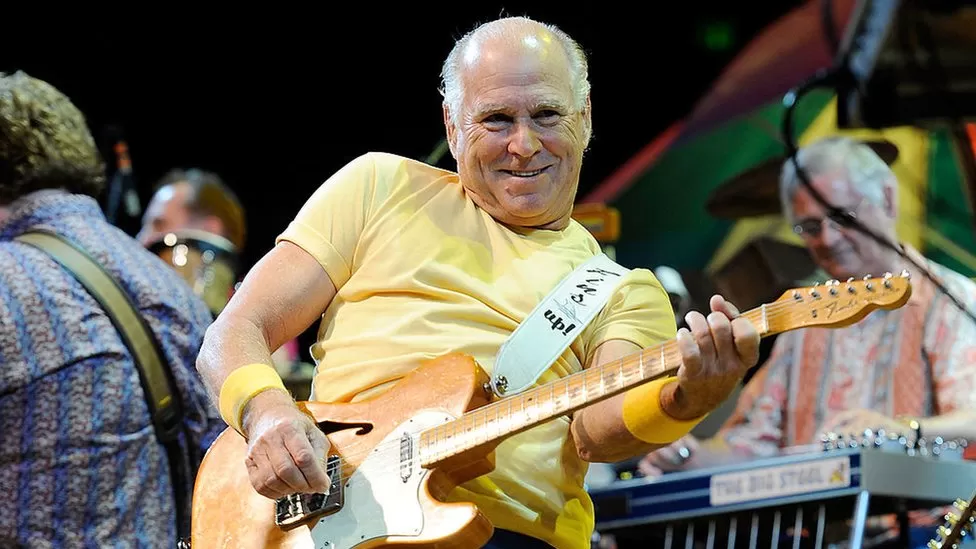 According to his website, Jimmy died peacefully surrounded by his family, friends, music and dogs on September 1.
"He lived his life like a song until the very end and will be missed beyond words."
According to the singer's official website, he was diagnosed with skin cancer four years ago.
Buffett was born in Mississippi but raised in Alabama before moving to Nashville, Tennessee. With the dream of becoming a country singer, he worked for the music and entertainment magazine Billboard.
Later, he moved to Florida, where he helped create the tropical rock genre, which later became mainstream thanks to artists like Jack Johnson.
A song from Buffett's 1977 album Changes in Latitudes, Changes in Attitudes, Margaritaville, spent 22 weeks on the Billboard Hot 100 chart.
Other hits include Fins, Come Monday, and Son of a Son of a Sailor. A prolific artist, Buffett released more than 20 albums and was nominated for two Grammy awards. He announced earlier this year that he had recorded a new composition.
Escape to Margaritaville, a musical based on his songs, debuted on Broadway in 2018.
A devoted following of millions of Parrotheads followed Buffett's music and lifestyle as he promoted the "beach bum" lifestyle.
A Parrothead on X, formerly known as Twitter, wrote "RIP to the troubadour of my youth.".
There are so many great memories of Jimmy's shows. This is hard."
Some of Buffett's fellow musicians have also paid tribute, including Elton John, who said Buffett was "a unique and treasured entertainer" who passed away far too early.
Wilson tweeted Buffett's album cover with the message: "Love and mercy, Jimmy Buffett.".
The rapper LL Cool J wrote, "Rest in power @jimmybuffett I'm glad we had time to vibe.".
You were and always will be one of the most inspiring people I have ever known."
After being hospitalized in May, Buffett had to cancel shows with his Coral Reefer Band.
In a post on Facebook, he promised to make it up to fans once he was "in shape".
He said, "Playing is as therapeutic for me as listening to and singing along with me is for my fans.".
Buffett was diagnosed with Merkel cell carcinoma, a rare type of skin cancer, according to his official website.
During treatment, he played his last show, a surprise performance in Rhode Island, in early July.
The cause of death has not been officially determined.
In addition to being a musician, Buffett was a best-selling author and entrepreneur who opened up a string of popular resorts and clubs. Margaritaville restaurants, merchandise shops, and retirement communities.
Forbes estimated his net worth at $1bn (£794m) this month.