Hundreds of officers search for Maine shooting suspect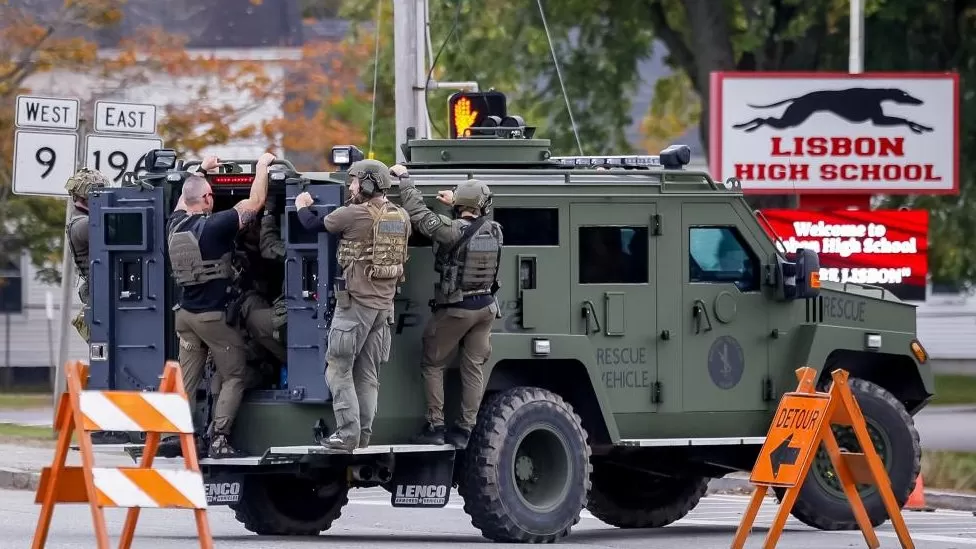 A massive manhunt is underway in Maine for the US Army reservist suspected of killing 18 people and injuring 13 others.
Robert Card, who is believed to be armed and dangerous, is being sought by hundreds of police officers and FBI agents.
People have taken shelter up to 50 miles (80km) away from the Lewiston shooting scenes. Schools and businesses have been closed.
A property in Bowdoin, a neighbouring city, was raided by police on Thursday night.
During the search, police executed warrants in the town, about 20 minutes from Lewiston.
Police shouted over a megaphone for Mr Card to surrender and come out of a house "with your hands up.".
The police departed the scene a few hours later.
A police official said police are simply following every lead in an effort to locate and capture Card, and it is unclear what prompted the search.
According to the Gun Violence Archive, which counts mass shootings that result in four or more deaths and injuries, excluding the gunman, Wednesday's shooting was the worst this year.
In Maine, which is one of the nation's least populated states, where gun ownership is high but gun violence is relatively low, the mass shooting is considered one of the worst recorded. In 2022, the number of victims nearly equaled the number of homicides committed throughout the state.
As of now, the search for Mr Card has been conducted over land, water, and air.