Ginners suspend raw cotton buying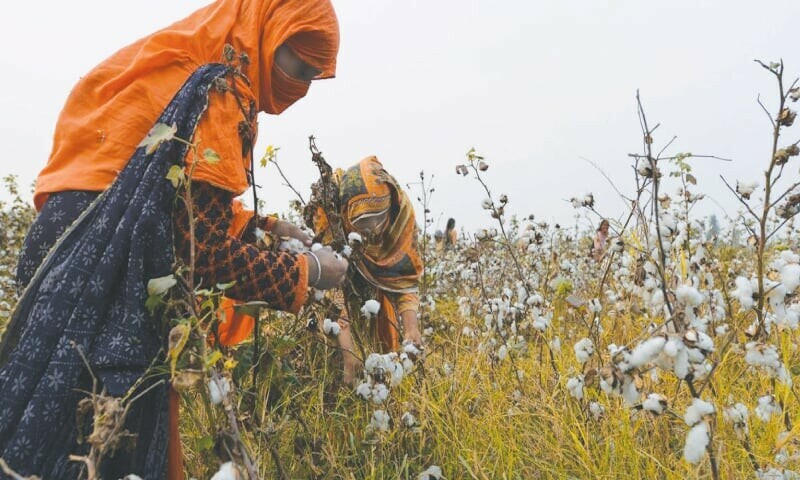 Claim growers are not paid Rs8,500 per maund at the official rate
Tax waivers, cheaper power are demanded by PCGA
Ginners have suspended buying raw cotton from farmers across the country after district commissioners in the cotton belt, both in Sindh and Punjab, directed them to pay at least Rs8,500 per maund.
Sindh and Punjab, through their district administrations, have asked ginning factories to pay the cotton growers at least Rs8,500 per maund, the minimum support price set by the federal government.
Sindh's chief minister's adviser on agriculture, Manzoor Wassan, said that the action was taken after growers complained that they were being paid less than the official price of Rs8,500 per maund in Sanghar, Mirpur Khas, Nawabshah, Khairpur, and other districts. A similar report was received from Vehari, Rahim Yar Khan, Bahawalnagar and other cotton-growing districts in Punjab.
According to some TV channels, former president Asif Ali Zardari expressed concern over farmers' complaints and accused the federal government of failing to ensure farmers were paid Rs8,500 per maund, a price set by the government in consultation with the textile industry before the cotton season.
The Ginners' demands
Chaudhry Waheed chaired a meeting of the central executive committee of the Pakistan Cotton Ginners Association (PCGA) on Thursday, which decided to suspend raw cotton buying until their demands, including a withdrawal of sales tax on banola (rapeseed) and not forcing ginners to purchase cotton at a certain price, are not met.
By introducing the Trading Corporation of Pakistan (TCP) as the second player in the market, the government would guarantee the payment of Rs8,500 cotton intervention price.
As well as paying Rs50 per unit of electricity, the millers are paying excessive markups on their loans.
Mr Waheed said half of the ginning factories had closed their businesses due to higher tax rates with minimum facilities, inviting the growers to join them.
Dr Jassomal Lemani, the ex-PCGA chairman, said they had told the Sanghar deputy commissioner that the ginners would pay the growers for their raw cotton at the market rate for their products: rapeseed and cotton. A rate at which the TCP could pay the growers Rs8,500 per maund for cotton and rapeseed should be negotiated between the TCP and ginners.
An earlier press conference in Hyderabad revealed that ginners in Sindh were not paying cotton growers the official price of Rs8,500.
It was claimed by Nawaz Zubair Talpur, Zafarullah Talpur, Anwar Kamboh and others that ginners in Punjab were paying farmers Rs9,500 per maund while their counterparts in Sindh were unfairly treating farmers who were being paid Rs6,000 per maund for their raw cotton, while ginning factories and dealers were deducting illegally two kilograms from the cotton crop.
As for the PCGA's excuse of higher business costs, they said the input costs of farming have also increased due to an increase in the power tariffs for tube wells, which have gone up to Rs45 per unit. Farmers are not using DAP fertiliser to seek better cotton rates even though it costs Rs12,000 per 50kg bag.