Stocks rally to settle above 44,000 level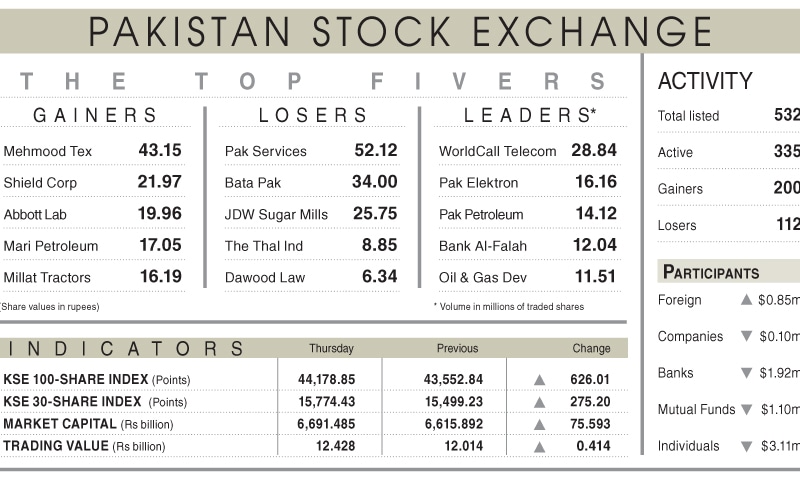 KARACHI: The bulls broke the psychological barrier of 44,000 points on Thursday, breaking a psychological barrier that had been holding the PSX for almost 56 weeks after a tug of war between bulls and bears in the two prior trading sessions.
Following the opening bell, stocks traded higher and remained in the green for most of the day, according to Topline Securities. Keeping the stock market positive and closing on Friday on the higher side may unlock further upside if the stock market rises above 44,000 points, the report said.
Optimism will be sparked by the International Monetary Fund's meeting on July 12, in which the Washington-based lender is expected to approve a $3 billion Stand-By Arrangement signed with Islamabad last week.
Consequently, the KSE-100 index settled at 44,178.85 points, up 626 points or 1.44 percent.
There were 297.8 million shares traded overall, a decrease of 15.2 percent. Day-to-day, the traded value increased by 3.4pc to Rs12.4bn.
WorldCall Telecom Ltd (28.8m shares), Pak Elektron Ltd (16.1m shares), Pakistan Petroleum Ltd (14.1m shares), Bank Alfalah Ltd (12m shares) and Oil and Gas Development Company Ltd (11.5m shares) all contributed significantly to the traded volume.
The share prices of Mehmood Textile Mills Ltd (Rs43.15), Shield Corporation Ltd (Rs21.97), Abbott Laboratories Ltd (Rs19.96), Mari Petroleum Company Ltd (Rs17.05) and Millat Tractors Ltd (Rs16.19) increased the most in absolute terms.
Pakistan Services Ltd (Rs52.12) and Bata Pakistan Ltd (Rs34) recorded the largest declines in share prices, followed by JDW Sugar Mills Ltd (Rs25.75) and Thal Industries Corporation Ltd (Rs8.85).
The amount invested by foreign investors was $0.85 million, which represents a net purchase.