From Miss Pakistan Universal to Miss Earth 2023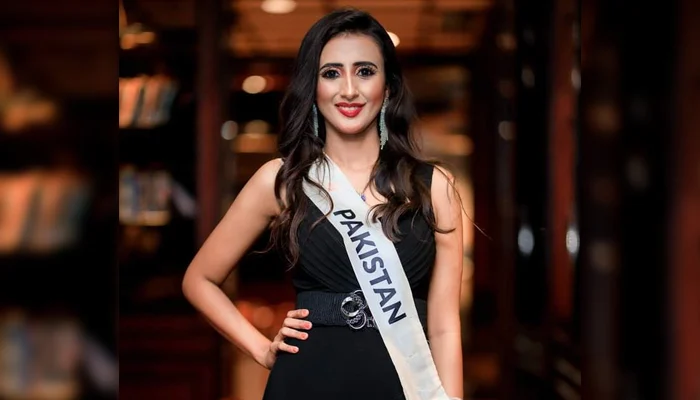 Dr Kapotaqkhy Chanchala who was crowned Miss Pakistan Universal 2023 a few months ago and subsequently represented Pakistan in the Miss World Tourism 2023 contest held in Sri Lanka, is now on her way to unfurl the Pakistani flag in Vietnam.
Between July 20 and 30, Dr Chanchala took part in a series of tourism-related activities with participants from 40 countries, all aimed at promoting Sri Lanka internationally.
As she walked the ramp in exquisite Sri Lankan designer ensembles and explored Colombo, Kandy, and other cities, she advocated for Sri Lanka's tourism industry.
Taking part in the third-largest pageant in the world, Miss Earth 2023, the Pakistani beauty queen now sets her sights on Vietnam.
The task has been assigned to Dr Chanchala from among a group of Pakistani title holders and she is confident that she will do the task justice.
Creating seven videos that highlight each delegates' commitment to environmental conservation and protecting our planet presents its own challenges for Miss Earth.
Using the influence of the beauty pageant entertainment industry to promote environmental awareness, the Miss Earth Pageant is an outstanding international environmental event.
Carousel Productions recognized the widespread admiration and aspiration associated with beauty queens, and envisioned them as powerful advocates.
By launching the Miss Earth Beauty Pageant in 2001, the firm brought this vision to life.
Its contestants and winners are actively engaged in championing environmental preservation and safeguarding planet Earth through this unique beauty contest.
In addition to being the third largest pageant worldwide, Miss Earth stands out for its unwavering commitment to pressing issues facing the planet.
Planting trees, a seemingly simple but profoundly impactful initiative, serves as nature's air purifier, filtering pollutants and enhancing air quality, and is Dr Chanchala's passion.