For First time TV and cable makes up less than half of TV viewing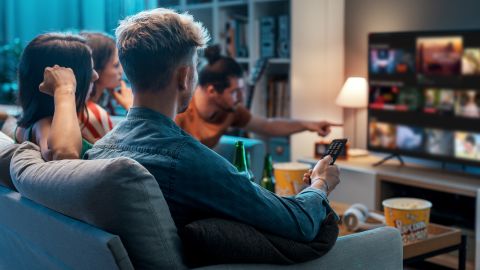 As traditional broadcast and cable television viewership declines, it has fallen below a major milestone.
According to Nielsen, linear TV made up less than half of all TV viewing in July. The firm's report said broadcast and cable combined represented only 49.6% of total viewership, a record low. The percentage of total TV viewing accounted for by streaming services, such as Netflix and YouTube, hit a record high last month at 38.7%.
In July, broadcast viewers dropped 3.6%, making up just 20% of all TV viewers, while cable viewers dropped 2.9%, making up 29.6%. Broadcast viewership decreased 5.4% and cable viewership decreased 12.5% over the previous year.
In July, however, streaming jumped 25.3% year over year, with YouTube, Netflix, and Amazon Prime Video all hitting record highs. With 9.2% of the category, YouTube is the most popular streaming service, followed by Netflix with 8.5% and Hulu with 3.6%.
A Nielsen report notes that acquired TV series rather than original shows produced by streaming services boosted usage. It was "Suits," a legal drama starring Meghan Markle that premiered on Netflix last month, and "Bluey" on Disney+ that had the most viewers for July, according to the firm.
While the findings of the report aren't surprising, they mark an inflection point for the typical American TV viewer as well as the industry as a whole. Streaming services are being bolstered by entertainment companies in order to future-proof them. Owned by Warner Bros. Max is a streaming platform owned by Discovery, which owns several cable networks.
While streaming's glory days may already be over, streamers are jacking up prices to shore up profits as they fight for subscribers at all costs.
The price of Disney+'s ad-free plan will increase $3 to $13.99 in October, the company's second hike in less than a year. Hulu, which Disney owns a majority stake in, will also increase its ad-free subscription price by $3 to $17.99. As a result, Disney+ will now cost twice as much as when the service launched four years ago, while Hulu's ad-free plan now costs more than Netflix's most popular plan.
A similar announcement was made earlier this year by Max, Paramount+, and Peacock.