Flooding cuts off Palm Springs in California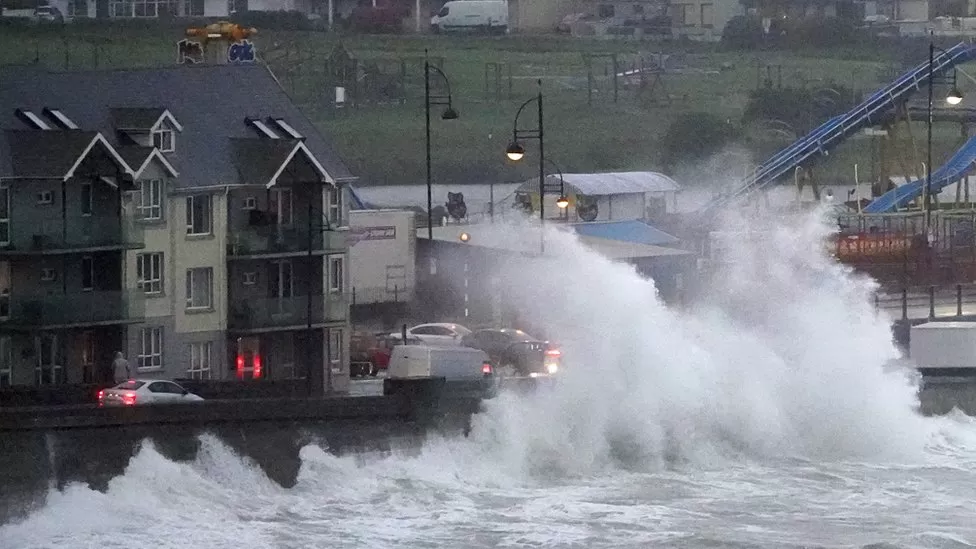 After dumping a year's worth of rain, Hilary, the first tropical storm to hit southern California in 84 years, cut off Palm Springs.
Flooding caused major roads in and out of Palm Springs to be temporarily closed on Monday after 3.18in (8cm) of rain fell.
Swollen rivers forced rescuers to save several people there.
Despite now being a post-tropical cyclone, Hilary could still cause flooding in Nevada, Oregon, and Idaho.
On Sunday morning, the storm made landfall on Mexico's Baja California peninsula. Officials reported that 911 lines were down in Palm Springs, about 110 miles (175 km) east of Los Angeles, as well as in Cathedral City and Indio nearby.
"Right now, we have flooding on all of our roads. There's no way in or out of Palm Springs or the Coachella valley. We're all stuck," said Palm Springs Mayor Grace Garner on Monday.
At the moment, this is a very extreme situation.
Earlier on Monday, Interstate 10 through Palm Springs reopened in both directions.
Residents of Palm Springs spent hours sweeping water from doorways during Sunday's heaviest rains, resident Sean Heslin told the BBC.
A flood and mudslide trapped 14 people in an old people's home outside Palm Springs. By Monday afternoon, firefighters had rescued them.
In the city, 50 mobile homes were under water, and four adults had to be rescued by firefighters.
Los Angeles Unified School District, the second largest in the country, closed its schools on Monday due to concerns about driving conditions.
Another natural disaster – a magnitude 5.1 earthquake – struck north-west of Los Angeles on Sunday, though without causing major damage.
According to poweroutage.us, about 30,000 people in the state were without power as of Monday evening.
In the US, Hilary has caused no deaths, serious injuries, or major damage.
A flash flood in Mexico on Sunday killed one man in his car. On Sunday, heavy rain and 70mph winds hit the Baja California peninsula.
Long Beach was the last place a tropical storm made landfall in Southern California in 1939.
Recent abnormal weather events that have plagued the US – and several other countries – have been influenced by human activity