Australia coach McDonald denies his side were saved by the rain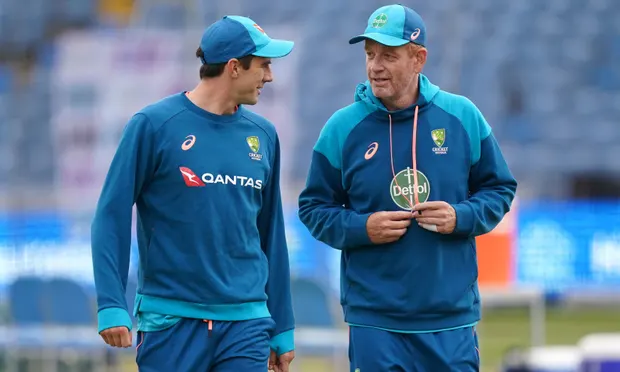 Australia coach McDonald denies his side were saved by the rain in Ashes 4th Test
It was time for batters to come. There was a possibility of shifting pressure'
Andrew McDonald, the head coach of Australia, believes his team has been the better team throughout the Ashes series, despite rain on day five at Old Trafford. The one-word response he gave when asked this question after the fourth Test was washed out on Sunday rested on the fact that they had won the first two Tests.
McDonald disagrees with the notion that the weather robbed England of a 2-2 scoreline before the fifth Test, with his team 60 runs behind with five wickets remaining. There were still some batters to come. It would have been helpful if we had shifted some pressure. The change room upstairs does not believe it was a foregone conclusion that England would win the match – I don't believe that either."
McDonald, however, acknowledged how badly his team was outplayed throughout the match until rain intervened. "It has been a disappointing three days or so. He said, "We're not gonna shy away from that and we own that.".
"England put enormous pressure on us. There's no doubt about it. The surface on day one gave us a chance to score a few more runs, and when you get behind a little bit, you can compound it, and I thought Zak [Crawley] came out and put pressure on us, so you've got to give the opposition credit as well."
As Crawley rode his luck, Australia's bowling faded before an innings of 189 flourished, paving the way for a batting blitz through the order. "Both teams have probably made mistakes at critical times. In a highly pressurised environment, it's hard to pinpoint that," McDonald explained.
"Pressure does bring about errors and dysfunction within the game, and it's how you recover from those moments that matters." The first couple of Tests went well."
With a couple of days to go before the fifth Test in England, Australia will need to recover to win the series.
A hot topic is team balance after Australia played no spinner at Old Trafford and had no options when the seamers were hit around. Mitchell Marsh and Mitchell Starc have fitness issues, while captain Pat Cummins looked frazzled after playing five Tests since June 1.
As a captain, sometimes you have to wear this, McDonald said, of the criticism of Cummins' tactics and approach that came his way after Old Trafford. "We're all working on the Australian cricket team together, so it shouldn't really come down to Pat individually."