Australia Matildas 'not done yet' as they chase glory on home soil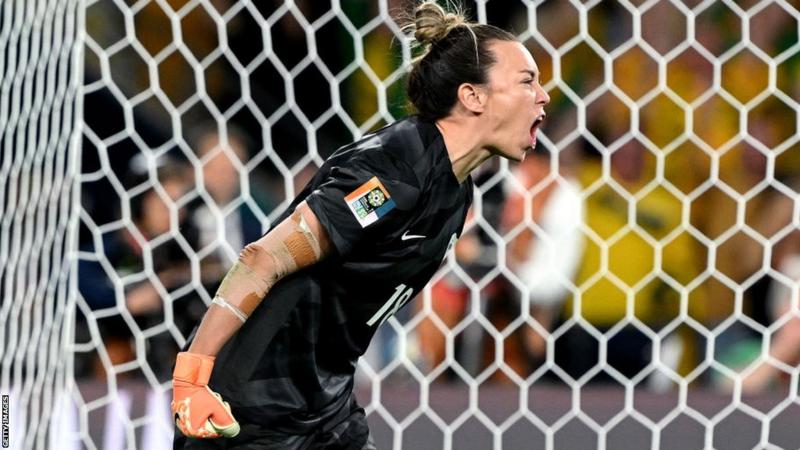 It's been Matildas Mania during the Women's World Cup and while the team have inspired a nation, goalkeeper Mackenzie Arnold insists there is still work to be done.
When they play European champions England in Wednesday's last-four match, a place in the World Cup final is at stake, and you can bet the whole country will be tuned in.
The Matildas' matches have been shown live on screens in fan parks and domestic flights, flagship TV news shows have been delayed, and a street has been renamed after Arnold.
The legacy we wanted to leave through this World Cup – to inspire a generation – has exceeded our expectations," said Arnold.
It's just the beginning and there is a lot more to come. "Seeing the reaction from the whole country, we still have a long way to go."
In Saturday's penalty shootout victory over France, West Ham goalkeeper Arnold made four saves, including twice from Kenza Dali – moving off her line early to lead to a retake but saving that too.
She had the opportunity to score the winning penalty for Australia after saving from Eve Perisset, but struck the post.
Arnold said, "The last couple of days have been a real whirlwind for me, and I think it's the first time I've ever received that much attention."
I've blocked it out because I know the response could be very different tomorrow if I play [rubbish].
During a media conference with manager Tony Gustavsson on Tuesday, Arnold was in a relaxed mood, making jokes, speaking defiantly about their chances and joining in the hype surrounding the Australia-England soccer match.
I'm sure there are a lot of English people who would love to see us knocked out by them," Arnold said. "But I'm sure there are lots of Aussies who would love to see us knock them out as well!"
Looking apologetic at Gustavsson, she said: "I didn't choose the penalty takers against France!".
In addition, her manager was full of humor and defiance, claiming it was up to the media to decide who were the favourites, but then giving reasons why England should be.
According to Gustavsson, their players play in top clubs, top leagues all over the world, which makes them favorites.
In comparison with us, they have bench players, while we have players in mid-table teams in Sweden. If you look at all that, and if you look at resources and finances, obviously they are huge favourites."
As momentum has built throughout the tournament, Arnold and Gustavsson were keen to emphasize the importance of the home crowd.
Fans have been setting up food stall tents and big screens throughout Sydney in preparation for huge crowds at the 81,000-capacity stadium.
Gustavsson said that fans' support and belief in the team will be the one thing that separates us from England.
The support we have received outside the stadium has been incredible, Arnold said.