Australia v England at FIFA Women's World Cup 2023 Meet fans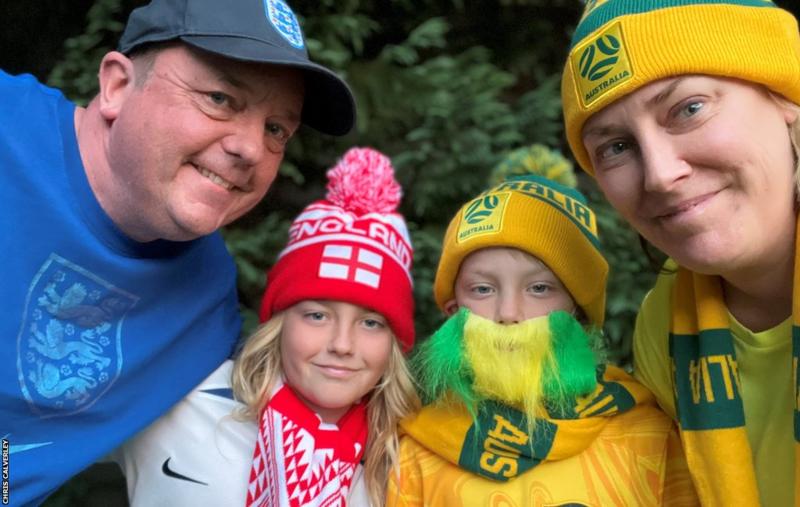 In Wednesday's Women's World Cup semi-final, England supporters will be outnumbered by co-hosts Australia.
One England super fan is very familiar with the feeling.
Originally from Surrey, Kate Grant lives in the capital of New South Wales and has been supporting Sarina Wiegman throughout the tournament.
Where is the problem? She and the rest of her family are staunch supporters of Australia.
This is the first time that England and Australia have really been locked in a dogfight," Kate Grant said.
Except for the Ashes and netball, this family never really had a huge problem until this Wednesday."
Kate and her family have tickets to Wednesday's match at Stadium Australia in Sydney, along with her husband Steve and son Ed.
The Englishwoman was unable to convince Australian-born Steve and Ed to support the European champions.
"Anyone who has grown up in Australia knows you want to beat England," he said.
It's always a difference, but they don't play together too often. We'll see who wins, but I'm pretty sure I know who will."
Chris Calverley is another football fan whose family is divided by England-Australia loyalties – originally from Southampton, England, he left England permanently in 2005 after meeting his now wife, Katrina, on a backpacking trip.
The couple has two sons, Blake, 12, and Alex, eight. Like his mother, Blake supports England in all sports, while Alex supports Australia in all sports.
Chris, who lives with his family in the Sydney suburb of Pagewood, says the house is split pretty much for all sports.
It's a huge match for us. We're going on Wednesday night, and two of us are going to support England, and two of us are going to support Australia.
My wife bought Alex an Australia top yesterday, but she didn't buy Blake an England top because the England shirt is my responsibility. It's getting tense – in a friendly way."
A soccer match featuring both teams has already been attended by Chris and his wife – the Socceroos beat England 3-1 at Upton Park in 2003.
"It's been about three days since we spoke," he jokes. As a result, I have the most to lose in this, and I could be in a bad way by 10pm on Wednesday."
Will he support Australia in the final if England loses? "100%," he replied.