Alibaba shares rise after Chinese regulators fine Ant Group.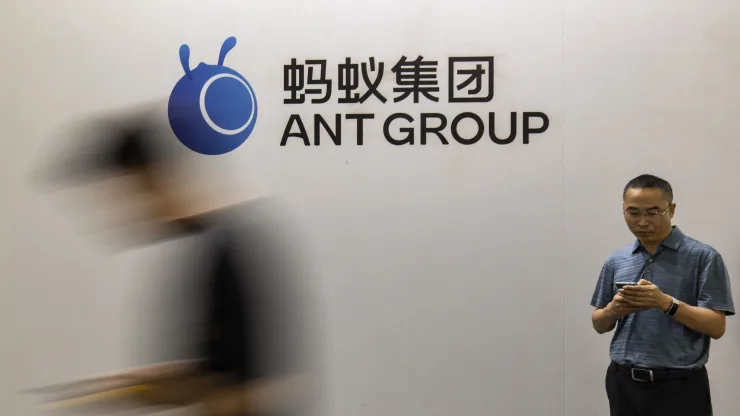 On Monday, Alibaba's Hong Kong-listed shares rose 3% amid hopes that Ant Group's years-long scrutiny will end.
In a move that could mark the end of Beijing's crackdown on domestic tech companies, Chinese regulators issued a 7.12 billion yuan ($985 million) fine for Ant Group on Friday.
In late 2020, Ant Group's initial public offering was halted for not meeting listing requirements. A $2.8 billion antitrust fine was imposed on Alibaba in 2021, while a 3.44 billion yuan fine was imposed on Meituan for violating antimonopoly laws. Didi's data security violations resulted in a fine of 8.02 billion yuan in 2022.
In a statement on Friday, Chinese regulators said most of the outstanding issues with platform companies' financial businesses have been resolved and regular supervision will be instituted in the domestic tech industry.
Alibaba announced a major restructuring of its businesses in March, suggesting that the Chinese government may loosen its grip on the domestic tech market.
According to Oshadhi Kumarasiri, equity analyst at LightStream Research, in a report published on research platform Smartkarma, "[regulators] have also called for broader industry-wide regulations to effectively regulate the entire sector."
It appears that the optimism regarding the end of regulatory scrutiny may be premature, as the new broader regulations could also be equally stringent," Kumarasiri said.
On CNBC's "Street Signs Asia," Ronald Wan, non-executive chairman of Partners Financial Holdings, said Alibaba and Ant Group's growth rates will "significantly be restricted."
"Despite the good news of the settlement of the dispute on the regulatory front, Ant Group may be operating in the future like a state-owned bank," said Wan.
Following Ant Group's fine, Shawn Yang, managing director of Blue Lotus Research Institute, is bullish on Alibaba.
"We calculate that Ant Group would be worth $89 billion~ of which Alibaba's stake is $29.4 billion~ given their 33% ownership in Ant Group. In reference to Bloomberg's valuation of Ant Group at just $22 billion to $57 billion, Yang said such a valuation presents upside from consensus.
According to us, [Bloomberg's] valuation range is too low, since Ant Group is comparable to PayPal. "With the end of regulatory overhang, we suggest Ant Group should be valued at a multiple more similar to PayPal, suggesting upside to Bloomberg's valuation," said Yang.
According to state media CGTN, Ant Group announced a $78.53 billion share buyback on Saturday. In 2020, Ant attempted to list at a valuation of $315 billion.
According to Kumarasiri, the buyback "raises questions, especially if an IPO is planned for soon."
If an IPO is imminent, the company's justification for the buyback, which includes providing liquidity to existing investors and attracting or retaining talented employees, would seem unnecessary."