Alcaraz secures Rune showdown after battling past Berrettini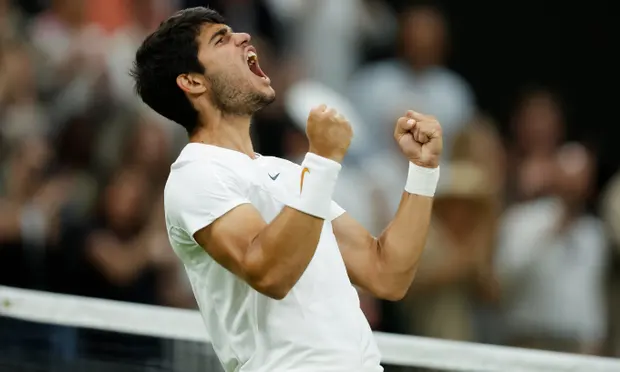 A nightmare 18 months filled with injuries and despair had brought Matteo Berrettini to Wimbledon at the lowest point of his career. His body was crumbling under the strain of professional tennis as he constantly suffered from new ailments and old wounds failed to heal. Before the tournament, he pondered whether it would be worthwhile to just withdraw.
Rather than withdraw, he chose to play, making it to the second week of the tournament. The Italian gave Carlos Alcaraz one of the most challenging tests of his young career on Monday, but Alcaraz rose to the occasion. With 3-6, 6-3, 6-3, 6-3 victories over Berrettini, the top seed reached the Wimbledon quarterfinals for the first time in his career.
Having survived this amazing match makes me feel really, really happy. I'm thrilled to have the opportunity to play my first quarterfinal at Wimbledon. I'm really looking forward to it. "Let's keep moving," said Alcaraz.
As a sign of Alcaraz's continued improvement on grass, it was perhaps the best victory of his career. A former Wimbledon finalist in 2021, Berrettini has won four of his seven career ATP titles on grass, and he is one of the few players of this generation whose strengths are actually highlighted by grass. It was the top seed who stepped up after losing the opening set, and he completely outplayed him.
Before the tournament, it seemed unlikely that the 27-year-old would play any role after the opening round. The situation worsened after his injury-ravaged 2022 season, which included withdrawing from Wimbledon because of Covid.
After returning from an abdominal injury, Berrettini was destroyed 6-1, 6-2 by Lorenzo Sonego in Stuttgart, leaving him in tears. He feared his body would not last a match at Wimbledon after withdrawing from Queen's Club a week later.
Despite being a non-entity at the start of the tournament, Berrettini exploded with straight sets wins over Alex de Minaur and Alexander Zverev. As one of the in-form players in the draw, he took to Centre Court against the top seed.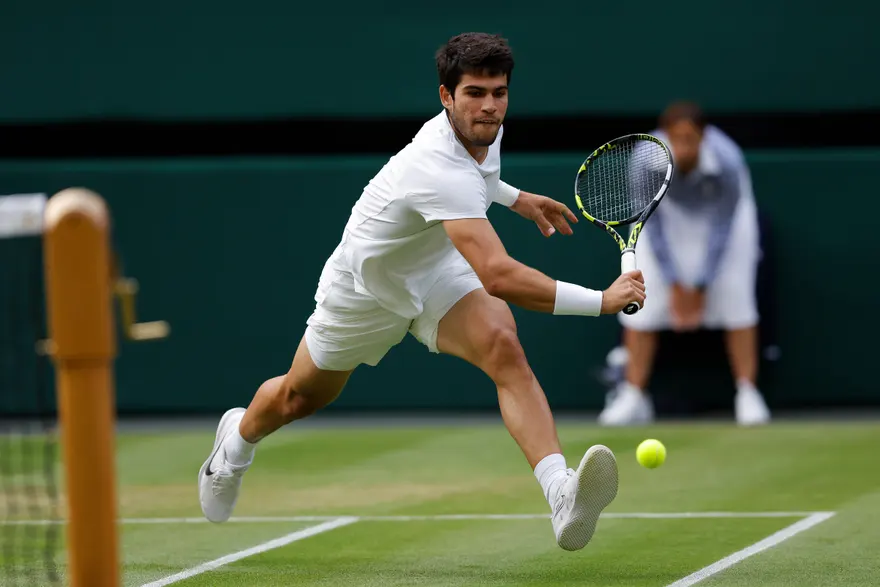 As a result, he got himself back into the match with more stellar returns, constantly taking the initiative with his explosive forehand and bringing Berrettini forward with his usual mix of drop shots. A clean winner came from his backhand flicked around the net post at full sprint during his recovery. The set was eventually won by Alcaraz after he broke serve early.
Throughout the final three sets, Alcaraz's superior returning, athleticism, backhand and forehand marked the difference between them, and he stormed through the final three sets.
Despite his disappointment, Berrettini maintained perspective: "Probably in a few hours, a few days, I will appreciate what I did even more." There were times when I considered not playing two days before the tournament. Being in the fourth round and losing to Carlos like this is something I have to be proud of."
It will be the first time in the open era that two male players under 21 will face each other in a Wimbledon quarter-final as Alcaraz takes on fellow 20-year-old Holger Rune on Wednesday.
During the quarter-finals, Rune defeated Grigor Dimitrov 3-6, 7-6 (6), 7-6 (4), 6-3, reaching his first Wimbledon quarterfinal. "I am really excited about this match," Alcaraz said. Our time together was filled with many wonderful memories. Since we were 12 years old, we have played together. It's obvious that we know each other very well, even though we haven't texted each other. I'm really looking forward to it. My impression is that he is similar to me."