Ukrainian Army claims foothold on bank of Dnipro river in south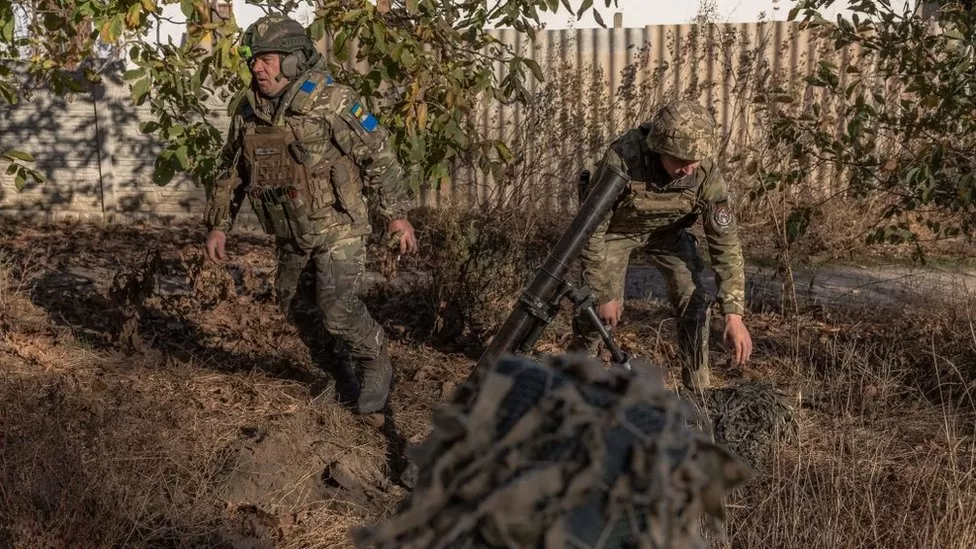 Andriy Yermak, the chief of staff for Ukrainian President Volodymyr Zelensky, has announced that Ukrainian forces have successfully established a position on the left bank of the Dnipro River.
Russia has acknowledged the presence of Ukrainian forces in a particular village, however, they assert that these positions will be swiftly eradicated.
If Ukraine were to retain control of the area, it would signify substantial progress for the country. Russia withdrew from the eastern bank of the river just twelve months ago.
The Ukrainian military has been strategizing to establish and maintain a bridgehead on the eastern shore.
"The Armed Forces of Ukraine have successfully established a bridgehead on the left bank of the Dnipro," stated Mr. Yermak during his address to a US think tank, utilizing military jargon to describe a strategically secured position.
According to experts based in the United States, there have been some limited advancements into the village of Krynky, located 2km (1.25 miles) inland from the river and 30km from the city of Kherson, which was previously recaptured a year ago.
On Wednesday, Russia acknowledged that "small groups" of Ukrainian forces have established positions in the village located on the left bank.
Vladimir Saldo, the Russian-installed official in occupied Kherson, claims they have suffered heavy losses and are unable to penetrate their opposition. He describes their situation as a fierce battle with reinforcements deployed to trap the enemy.
Two days following the publication and subsequent retraction of Russian state media's report on a retreat from left-bank positions, he acknowledged that Ukrainian forces had indeed established a stronghold.
Kyiv faced challenges in conducting raids across the Dnipro, Ukraine's longest river, due to a lack of air superiority. Ukrainian forces utilized small boats for these operations.