Ukraine war: University students grapple with rules under conflict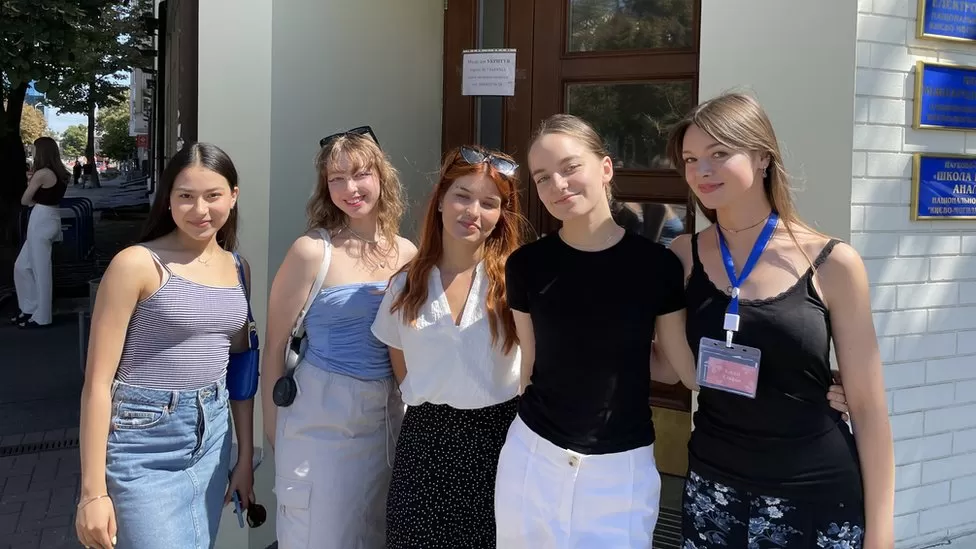 Ukraine's students are becoming accustomed to disruptions.
Student volunteers are helping new applicants enroll at Kyiv-Mohyla Academy, a university in the nation's capital.
There are some students who have never been to a class here in person, according to Anna.
The Covid [pandemic] happened, and then Russia invaded, so they never really had a chance to be in class offline. I find that a bit sad."
In spite of the ongoing war, she and her fellow volunteers explain that things have changed now, with students returning to in-person lectures this year.
The result is that parents have even more questions than usual.
It's pretty common for them to ask about shelter space if they want to send their children here for study.
Choosing a university and where to study will also become even more stressful for students.
Without special permission from the authorities, no man between 18 and 60 can leave Ukraine during wartime.
Thus, male students who decide to study in Ukraine cannot travel abroad until the war is over. While students are currently exempt from being drafted into the army, those rules might change if Ukraine suddenly needs more men.
In addition, it means male students considering studying abroad have to leave before they turn 18: they cannot return home to visit without risking getting stuck inside their own country.
Ukrainian society is experiencing a gender divide as a result of Russia's war.
When Russia invaded Ukraine last year, Liza fled west and eventually settled in Germany.
Once she passes the mandatory German language course, she plans to study sciences in the southern city of Konstanz on the Swiss border.
As part of her preparation for college, the 17-year-old returned home briefly to Kyiv.
"I'm hoping to buy something in Germany because there are more shops open there – many of the shops I liked in Kyiv have closed," she says. However, it's more expensive there. So I'll thrift in Kyiv before I go!"
Liza says half of the 32 students at her Ukrainian school have chosen to study abroad – both boys and girls. The male students in her year have accepted the rules, she says.
"It's never even brought up. Boys don't blame anyone, they understand it's the rules, and they should be obeyed," she says. "But they also try to leave – they are [just] 16, 17, 18, and 19 years old."
This year, Misha, 17, struggled to decide where to apply.
There are a lot more opportunities in Europe," he says. Having a lot more nightlife is a big plus for a 17-year-old like me. I know in Kyiv I have to stay at home after midnight due to curfews.
At the end of the day, he realized that he could not leave his family and friends behind.