Ukraine war: Russia says drone injures five at Kursk railway station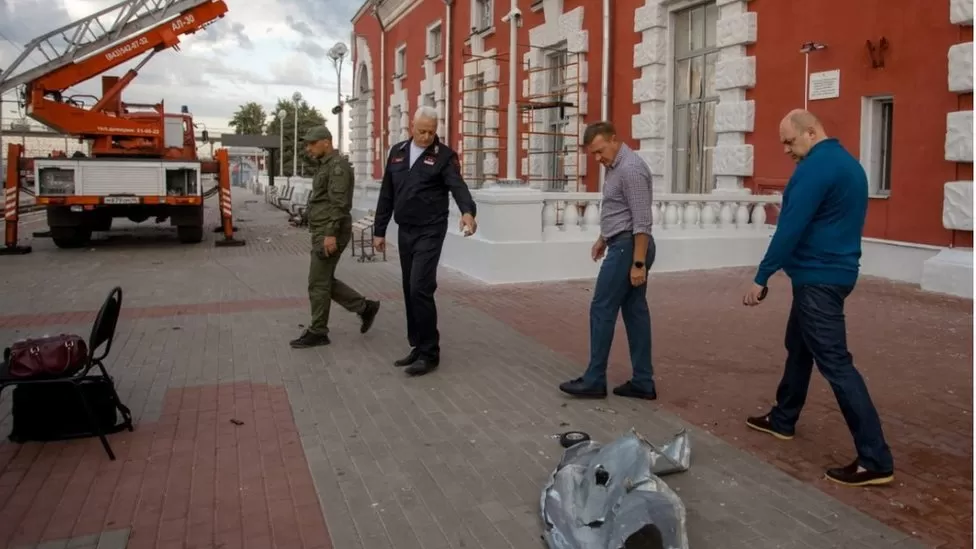 Five people have been injured after a Ukrainian drone struck a railway station in the Kursk region.
According to reports, another drone landed in Rostov – which shares a border with Ukraine, like Kursk – but no injuries were reported.
Additionally, Russia said that a drone heading for Moscow crashed in an unpopulated area after being stopped.
It has become more common in recent months for drone strikes to be reported inside Russia.
Although Ukraine has not claimed responsibility for specific drone strikes, President Volodymyr Zelensky has previously described attacks on Russian territory as inevitable, natural, and fair.
In footage verified by the smashed windows and a fire can be seen at the Kursk railway station, which is about 150 km (93 miles) from the Ukrainian border.
There were five injuries caused by glass fragments, according to Russian news agency RIA Novosti. Several parts of the station were damaged, including the roof, the exterior, and the platform.
As a result of the drone attack in Kursk, the Russian foreign ministry strongly condemned it.
Maria Zakharova, a ministry spokeswoman, said Ukrainian nationalists have literally harmed the history of our country.
In its own statement, Moscow's defence ministry said it had foiled an "attempt by the Kyiv regime to carry out a terrorist attack by drone on Moscow infrastructure" around 04:00 local time (01:00 GMT).
According to the ministry, the drone was destroyed by "electronic warfare" before losing control and crashing in an unpopulated area.
Due to weather conditions, flights to Domodedovo and Vnukovo airports were temporarily limited, according to Russia's aviation agency Rosaviatsia.
On Saturday, a Russian missile struck a theatre in the northern Ukrainian city of Chernihiv, killing seven people, including a six-year-old girl.
In addition to 148 people wounded, 15 children were among them.
In response to the terrorist attack, President Zelensky vowed to provide a tangible response to Russia.