Ukraine war: Russia hits blood transfusion centre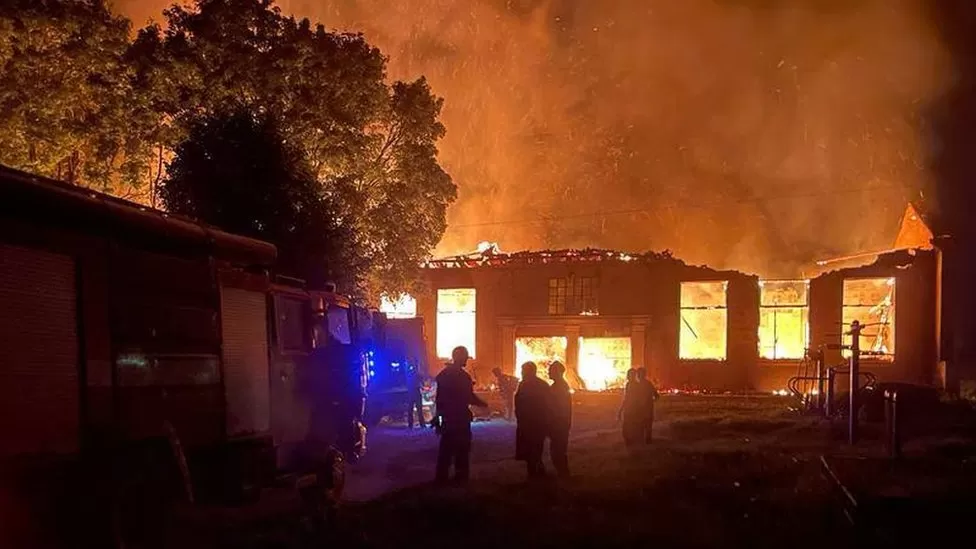 In the Russian-Ukraine war, Russia has hit a blood transfusion centre with a guided bomb.
Two people have been killed and four injured by a Russian "guided bomb" that struck a blood transfusion center in north-eastern Ukraine, Ukrainian officials said.
During Saturday night's attack around Kupiansk, in Kharkiv region, Volodymyr Zelensky posted an image of a burning building.
According to him, this war crime alone speaks volumes about Russian aggression.
The Russian government has not commented. All allegations of targeting civilians or war crimes have previously been denied by the government.
In February 2022, when Moscow launched its full-scale invasion of Ukraine, Kupiansk and nearby settlements were seized by Russian troops.
Despite being liberated last September by a Ukrainian counter-offensive, the area still faces daily missile attacks and shelling.
The perpetrators were referred to as "beasts" by Mr Zelensky on social media.
The fight against terrorists should be considered a matter of honour by all who hold life in high regard.
The casualties were not disclosed by Mr Zelensky. Local officials later posted the same image, adding details about the attack on a non-residential building.
Zelensky said that Russia also attacked an aeronautical company in the western Khmelnytskyi region on Saturday with missiles.
According to Moscow's mayor, Sergei Sobyanin, Russia's air defences destroyed a drone on Sunday.
Two days in a row, Ukrainian drones targeted an office block on a Moscow skyscraper, Russian authorities said.
There is no public admission that such attacks were carried out by Ukraine.
The Russian government also accused Ukraine of hitting a Russian tanker with 11 crew members in the Black Sea on Saturday – the second such attack within a week.
The engine room of the Sig tanker was damaged in the attack in the Kerch Strait, according to Russian maritime officials. The incident did not result in any injuries.
Crimea, the Ukrainian peninsula annexed by Moscow in 2014, is separated from Russia's Taman peninsula by the Kerch Strait.
The Ukrainian government has not commented publicly. It has been reported that a sea drone was used by the Ukrainian security service, according to a BBC source.
According to Russia's RIA news agency, the Chonhar road bridge linking mainland Ukraine and Crimea was struck by a Ukrainian missile strike on Sunday.
In June, Ukrainian missiles forced the bridge to close for repairs after an earlier attack.
Kherson regional governor Vladimir Saldo reported on Telegram that a small bridge connecting Henichesk with the narrow Arabat Spit on Crimea's north-east coast had been shelled.
A civilian driver was injured, and a gas pipeline was damaged, resulting in gas shortages for 20,000 people.