Russian war: Russian drone stamped 'Made in Ireland' investigated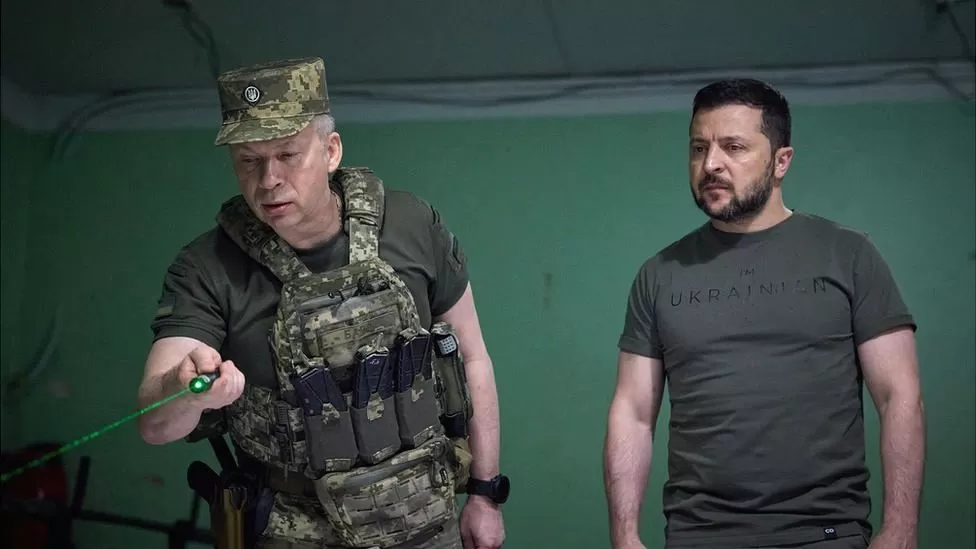 Russia-Ukraine war: Russian drone stamped 'Made in Ireland' investigated The Irish government is investigating reports that a Russian drone was shot down in Ukraine.
According to the Irish PM, the Irish government is investigating reports that a Russian drone shot down in Ukraine was made with Irish parts.
He spoke after meeting President Zelensky in Ukraine unannounced.
A "very serious" investigation was underway, Mr Varadkar said.
The government, however, believes Irish companies have not evaded sanctions.
Varadkar was asked by a Ukrainian journalist about the part, found in an Iranian-made Shahed drone and marked 'Made in Ireland', and said third parties could find a way around the EU ban on drone components.
Carburettors supply engines with fuel and air and are made by the American company Tillotson, which operates a factory in County Kerry, Irish broadcaster RTÉ reported.
On Tuesday, Andriy Yermak, the head of the Office of the President of Ukraine, shared photos of the recovered drone on Twitter.
In Kyiv, Mr Varadkar pledged more support for the country, announcing that Ireland would donate an additional €5 million (£4.3 million) in humanitarian aid.
In the 21st century, democratically elected governments should not be overthrown by foreign invasion.
In addition, Varadkar met family members of war dead.
He heard "first-hand accounts of death and destruction wrought by Russian forces", according to the Irish government.
As part of his visit, he laid wreaths at sites where various killings have occurred, including Bucha.
"This morning I came face-to-face with the horrors inflicted on the Ukrainian people by Russia's forces."
Our practical and political backing will continue to be offered to President Zelensky and the Ukrainian people."
€5m will be split between two aid organisations, with €3m (£2.6m) going to the Red Cross in Ukraine and €2m (£1.7m) going to the UN.
In his speech, Zelensky thanked Ireland for providing refuge to thousands of Ukrainian refugees, describing his talks with the Taoiseach as "fruitful".
Adding that he was "very grateful" that his guest had travelled to Bucha before their meeting, the Taoiseach said he had now seen war's consequences "with his own eyes".
Zelensky tweeted: "Although Ireland is a neutral country, this neutrality does not mean indifference. Thanks for all your help!"