Ukraine war: Drone attack hits building in central Moscow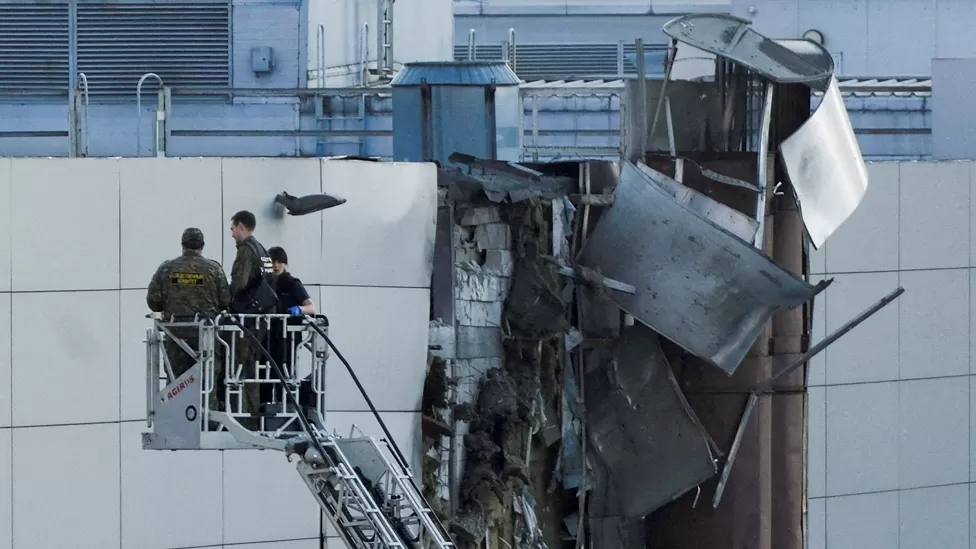 Ukraine has been accused of attacking a building in Moscow with a drone, causing an explosion heard throughout the city's business district.
The drone was shot down by air defences with its debris falling on the Expo Center, according to Mayor Sergei Sobyanin.
An attack like this has occurred in the Russian capital on a number of occasions in recent years.
Several videos posted on social media appeared to show thick grey smoke rising into the night sky over Moscow.
Although Ukraine has not formally acknowledged attacking targets in Moscow, there was no immediate comment from the country.
The attack occurred this afternoon at about 4 p.m. local time (01:00 p.m. GMT), the Russian defence ministry reported on Telegram.
According to the report, the drone changed its flight path after the city's air defence systems were activated, hitting a non-residential building on Krasnopresnenskaya Embankment, a government district in Moscow.
According to the report, there were no initial reports of casualties.
In less than 5km (3.1 miles) from the Kremlin is the Expo Center, a large exhibition space that hosts conferences and conventions.
An eyewitness who was in the area said "a powerful explosion" was caused by the attack.
In a statement, the Russian defence ministry said the debris had not caused a fire, while Mr Sobyanin said the drone had not damaged the building significantly.
One of the outer walls of the center partially collapsed, according to a Russian state-owned news agency, Tass. The affected area was around 30 square meters (323 square feet).
According to Tass, Moscow's Vnukovo Airport was also closed following the incident, but reopened shortly thereafter.
Until earlier this year, Moscow escaped the war in Ukraine, but drone attacks have targeted it in recent months.
In a wave of strikes on 30 May, several buildings were reported damaged.
Just a few hundred metres from the Expo Center, two drones crashed into the glass facade of a skyscraper on 30 and 31 July.
It was said by Ukrainian President Volodymyr Zelensky at the time that the war was "returning to the territory of Russia" and that this was a "natural and absolutely fair process".
The Russian defence ministry says an attempt to attack Russia's naval fleet in the Black Sea resulted in the destruction of a Ukrainian sea drone hours before the latest strike in Moscow.