UK India trade talks enter final trickier stage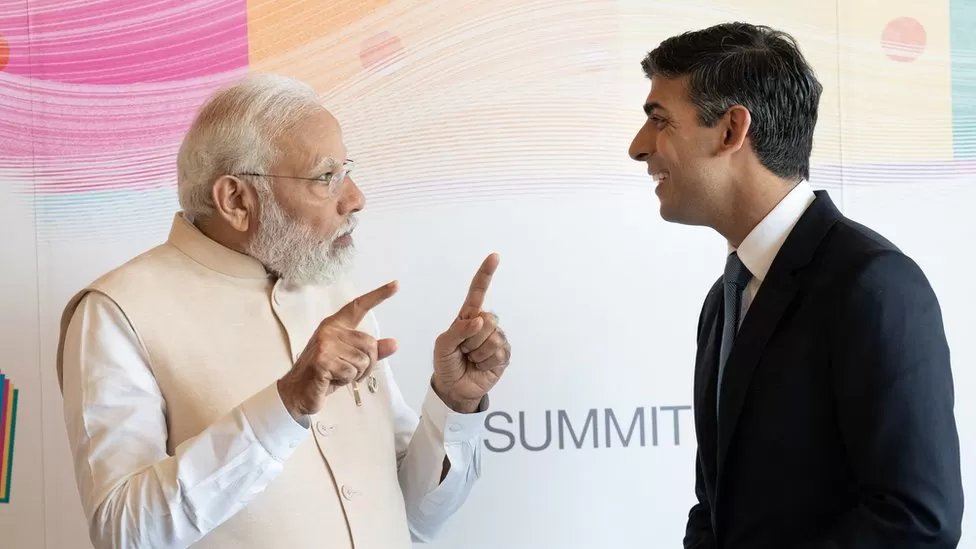 The UK's trade talks with India are at their "final but trickier" stages, according to government sources.
This week, G20 trade ministers will meet in India under the leadership of Trade Secretary Kemi Badenoch.
A trade deal may be struck before Rishi Sunak visits India in September, according to speculation.
Currently, there is no expectation that a full deal will be agreed by then in government.
According to government sources, a deal is now "months" away, but there are still some "big nuts" to crack.
Trade talks between the UK and India are 'worth billions'

There would be a lot to gain from a trade deal with India in 2022

Are you skipping the India trade deal?
The UK government has long considered a trade deal with India as one of the most valuable deals it could strike after Brexit.
In April last year, Boris Johnson promised an agreement would be completed by Diwali in autumn 2022 – but that deadline was missed.
It has been particularly keen to reach an agreement to lower tariffs on UK exports, including cars and whisky, which are currently subject to triple-figure tariffs or import taxes in India.
Because of those tariffs, UK products can be more expensive in India, reducing their competitiveness.
In the last year, trade talks have been hindered by British ministers' refusal to grant more visas to Indian workers. Rather than hold formal negotiations on a UK-India deal, Badenoch is visiting India to meet fellow trade ministers in the G20 group of wealthy nations.
As a result, officials from both sides will be in India during the visit, and she will meet one-on-one with her Indian counterpart after the G20 meeting.
A gigafactory in Somerset, announced recently by Indian conglomerate Tata, will also be discussed at the B20, the business equivalent of the G20.
The UK hopes to encourage other Indian investors to invest in the country.
Some media reports, particularly in India, suggest that a deal could be reached during Rishi Sunak's visit for the G20 summit in September.
Officials have indicated that a full deal is unlikely to be reached by then.