Mar-a-Lago IT manager implicates Trump in classified files case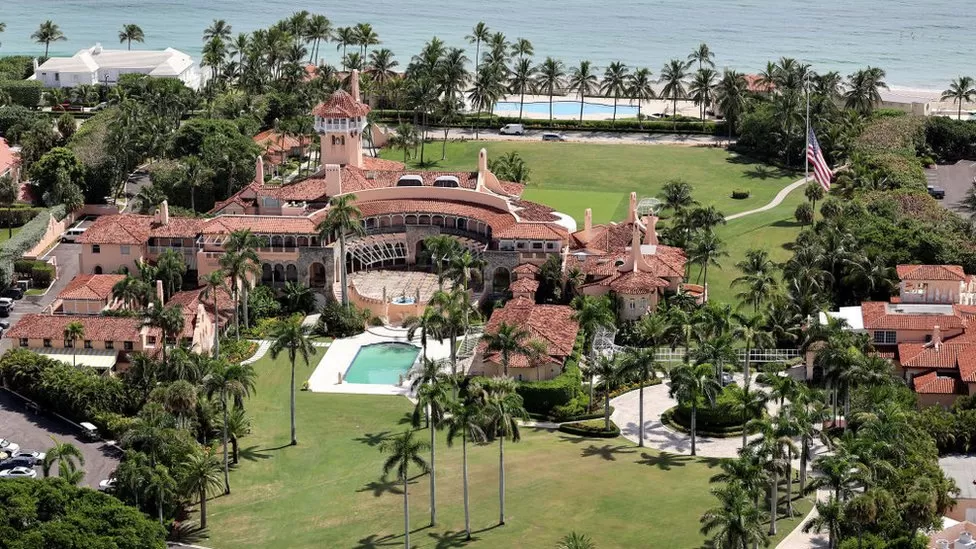 According to a court filing, one of Donald Trump's employees has implicated him in a classified documents case.
According to prosecutors, Yuscil Taveras, an IT director identified as Trump Employee 4, changed his testimony after switching attorneys.
The filing accuses Mr Trump and two aides of deleting security camera footage.
In the case, the 77-year-old ex-president faces 40 charges.
Neither Mr Trump nor his close personal aide Walt Nauta, nor Mar-a-Lago maintenance worker Carlos De Oliveira have been charged.
A former president is accused of mishandling sensitive files at his Florida home, Mar-a-Lago, and deleting security footage to cover up the incident.
He changed lawyers after special counsel Jack Smith, who is overseeing the case, informed him he was being investigated for perjury, according to a court document filed on Tuesday.
Mr Trump's former attorney also represents Mr Nauta, Mr Trump's co-defendant.
In his grand jury testimony in March, Mr Taveras "repeatedly denied or claimed not to remember any contacts or conversations about the security footage at Mar-a-Lago".
As investigators tracked the movement of boxes containing the documents inside the resort, prosecutors said they obtained evidence that Mr De Oliveira had asked Mr Taveras to delete the CCTV footage.
After prosecutors pointed out a conflict of interest for Mr Taveras' lawyer Stanley Woodward, who was partly funded by Mr Trump's Save America political action committee, the chief judge overseeing the federal grand jury offered him a public defender.
"Advising Trump Employee 4 to correct his sworn testimony would result in testimony incriminating Mr Woodward's other client, Nauta; however, if Trump Employee 4's false testimony is left uncorrected, he may face criminal charges," said the filing.
Mr Taveras informed Judge Boasberg on 5 July that he no longer desired representation by Mr Woodward and would accept legal aid instead.
"Immediately after receiving new counsel, Trump Employee 4 retracted his prior false testimony and provided information that implicated Nauta, [Carlos] De Oliveira, and Trump in attempts to delete security camera footage, as outlined in the superseding indictment," the court filing states.
There are no charges against Mr Taveras in the case, which is scheduled for trial in May of next year.
In three other cases, Mr Trump is facing criminal charges.