Uganda court fines US couple $28,000 for child cruelty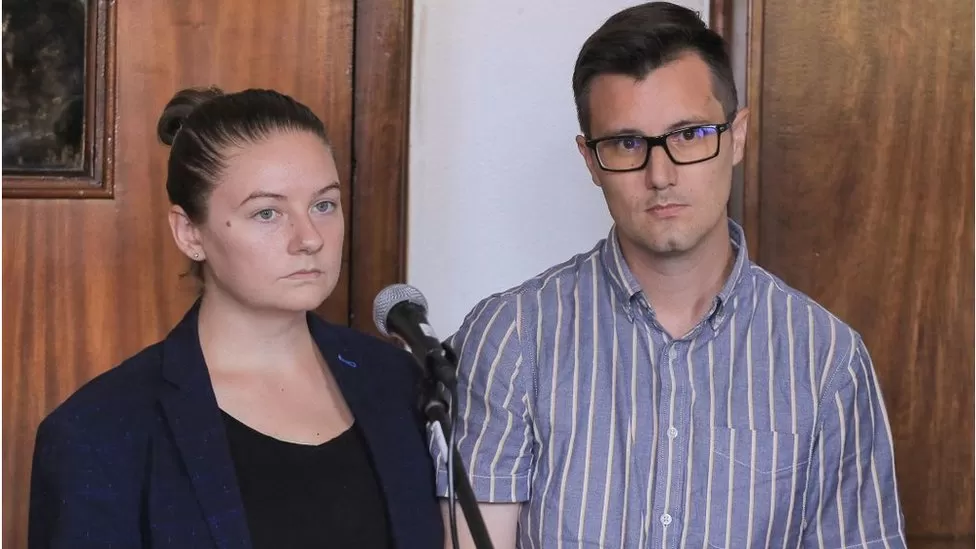 An American couple has been fined $28,000 ($23,000) by a Ugandan court for abusing their foster child, age 10, and inhumanely treating him.
Mackenzie Spencer and Nicholas Spencer accepted the charges as part of a deal that saw far more serious charges dropped.
In addition to being charged with child trafficking and torture, they were at risk of spending the rest of their lives in prison.
A wooden platform was used for the boy to sleep and cold food was fed to him.
A local police officer was notified last December that the boy had been repeatedly treated inhumanely.
Prior to their arrest last year, the boy had lived with the couple, originally from South Carolina.
Besides degrading treatment, working illegally, and illegally staying in Uganda without permits, they also pleaded guilty.
Following their arrest last year, they were sentenced to two months in prison for this charge.
A High Court judge ordered them to pay 100 million Ugandan shillings ($26,000: £22,000) as compensation to the victims.
According to the judge, the child was in need of help and support, having lost his father and having been abandoned by his mother. However, the accused persons failed to manage his peculiar behavior.
According to the couple's lawyer, David Mpanga, the boy had psychiatric issues and the couple was unable to care for him properly because they had no parenting experience.
In 2017, the couple moved to Uganda to work as volunteers, where they fostered three children.
It has sparked outrage among Ugandan child rights activists, who called it a mockery of justice.