Torrential rain in Spain causes major flooding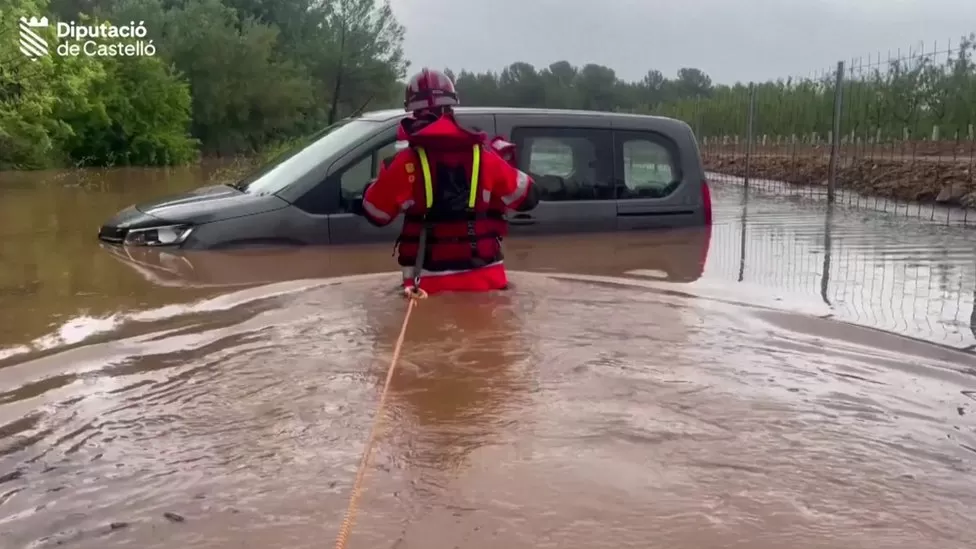 In Madrid, Toledo, and Cádiz, maximum red weather alerts are in effect.
Atletico Madrid and Sevilla's football match was suspended due to torrential rain on Sunday.
Due to "exceptional and abnormal" rainfall, Madrid residents have been asked to stay at home.
In the Spanish capital alone, firefighters have been called 190 times to clear flooded roads. In Cádiz, Tarragona, and Castelló – coastal regions across the country – most of the rainfall was brought by Storm Dana.
Flooding in Castelló led firefighters to rescue a man trapped in his car, which was surrounded by waist-high floodwater.
In the past 24 hours, 215 litres of rain fell on Alcanar, Tarragona, in the north-eastern city.
The water entering Juan Carlos Penafiel's apartment on the second floor woke him up while he was visiting the city.
Towels and bed sheets were used as ropes to pull two young men who were grabbing on to columns, he told Reuters. "We rescued them on the top floor. It was terrifying with small children and women. Nobody showed up, we were left to save ourselves," he said.
Several vehicles were unable to move in heavily flooded areas as a result of Storm Dana, which caused debris and mud to slide onto Spanish roads.
Some train services have been canceled across Spain, and drivers have been warned to avoid certain heavily flooded roads.
Spain and much of southern Europe have endured a scorching summer.