Thousands flee as Armenia says ethnic cleansing under way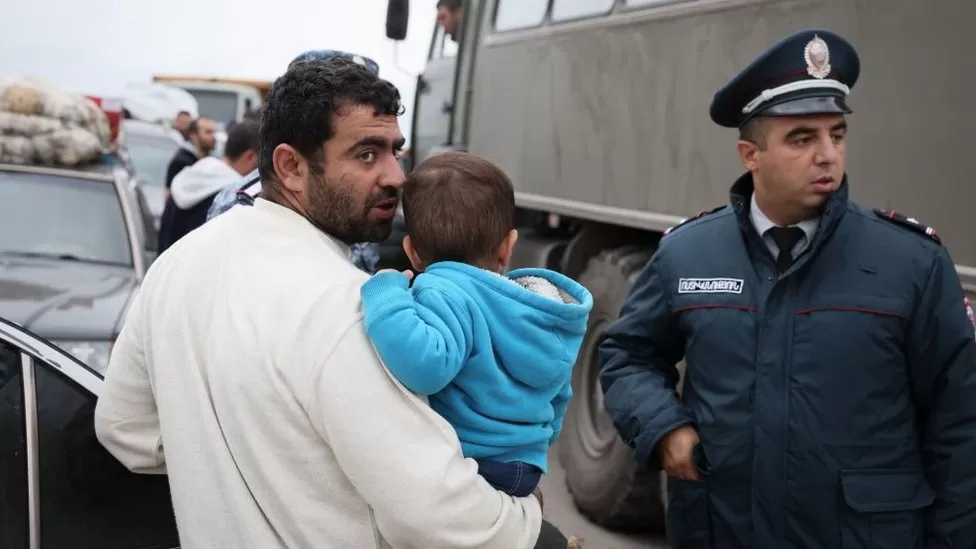 It is estimated that more than 6,500 people have crossed into Armenia from the enclave, which is home to a majority of ethnic Armenians.
The government in Yerevan announced plans to relocate those made homeless by the fighting, so they left.
The Armenian PM has warned that ethnic cleansing is taking place in the region.
"That's happening right now, and it's very unfortunate because we were trying to urge the international community on that," Nikol Pashinyan said.
According to Azerbaijan, ethnic Armenians should be treated as equal citizens once again.
On Tuesday, Armenian and Azerbaijani envoys will meet in Brussels for EU-backed talks – the first since Nagorno-Karabakh was seized. A US state department spokesman urged the two sides to reach a lasting peace agreement.
Human rights ombudsman Gegham Stepanyan wrote on X, formerly known as Twitter, that an explosion at a petrol station in Stepanakert severely injured more than 200 people. There are large traffic tailbacks on the Armenian border as people flee.
Some of the refugees who arrived in Goris, Armenia, on Sunday near the Karabakh border, have been interviewed.
One man said, "I gave my whole life for my homeland. It would be better if they killed me rather than this."
The woman, Veronica, told the group that this was her second time becoming a refugee. During the conflict in 2020, it was the first time.