The Ashes 2023: England's Ali finds fan who cured finger injury
In response to the England all-rounder's disclosure that he had lost her details, the fan who helped Moeen Ali cure his spinning finger cut has come forward.
Moeen's wound was healed by a honey gel given by Susan Thompson-Craig from Norfolk.
The BBC was contacted by Thompson-Craig's partner on Monday after Moeen misplaced the letter she sent him.
Thompson-Craig said: "I saw what was happening and believed if Moeen put this on his finger he would be fine."
Having suffered a stress fracture in his back, England's regular first-choice spinner Jack Leach was unable to play in the Ashes. Moeen came out of retirement to play in the Ashes.
When England were beaten by two wickets at Edgbaston in the first Test, Moeen's bowling was restricted by a nasty gash on his spinning finger.
Despite being left out of the second-Test defeat at Lord's, he played a crucial role in the third-Test victory at Headingley.
Live coverage of the fourth Ashes Test at Old Trafford

It's the last chance saloon for England to drink again
Several days after the Edgbaston Test, I received a letter from a lady whose husband is a big fan of mine," said Moeen.
"They saw the gash on my finger and thought Medihoney would be very helpful. I tried it and my finger healed in no time."
My only regret is that I put the letter on the table in my house thinking that after the series I would reply, but now I cannot locate it.
"If the lady sees this, I would really appreciate it if she got in touch with me."
The BBC was notified of Thompson-Craig's details by her partner Derek, a huge cricket fan.
"I saw how much of a problem Moeen's finger was," Thompson-Craig, who works in sales for Medihoney manufacturer Integra, said.
"I tracked down his address and sent him some bits and pieces, along with a letter explaining that we work with the NHS and that there was nothing in the product that would contravene his Muslim faith."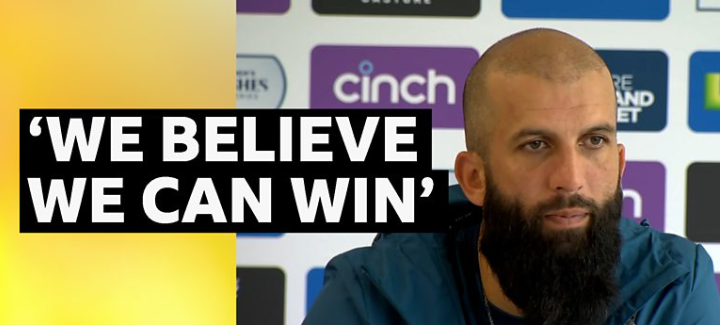 As part of his return to the England team, Moeen will bat at number three at Old Trafford during the fourth Test.
For the first innings at Headingley, England utilized Harry Brook in the first-drop position as a replacement for Ollie Pope, who was injured.
Moeen moved up to three in the second innings, allowing Brook to return to his usual number-five position and score 75.
In his 66-Test career, Moeen has batted at every position from one to nine.
After the first innings at Headingley, I saw how we went about it," said Moeen. He added, "I just thought Brooky's value at five and Jonny Bairstow at seven would be better for the team."
I've batted three before. It's not about me, averages, or anything else. I've always been a player who does what he feels is best for the team."
It is "likely" that Moeen's Test comeback will only last for the current series, rather than being tempted to take part in the next year's tour of India.
Assuming Old Trafford and The Oval are Moeen's final two Tests, he is aiming for a fitting finale with two wins that would give England a 3-2 series win for the first time since 2015.
"That would be amazing," he said. In order to win the Ashes, I came back.
My career has always been about things just happening and things happening for a reason.
This was my first month off in ages and I was looking forward to it. This is a once-in-a-lifetime opportunity.
Suddenly I'm playing in one of the biggest series since 2005. I can't say no."